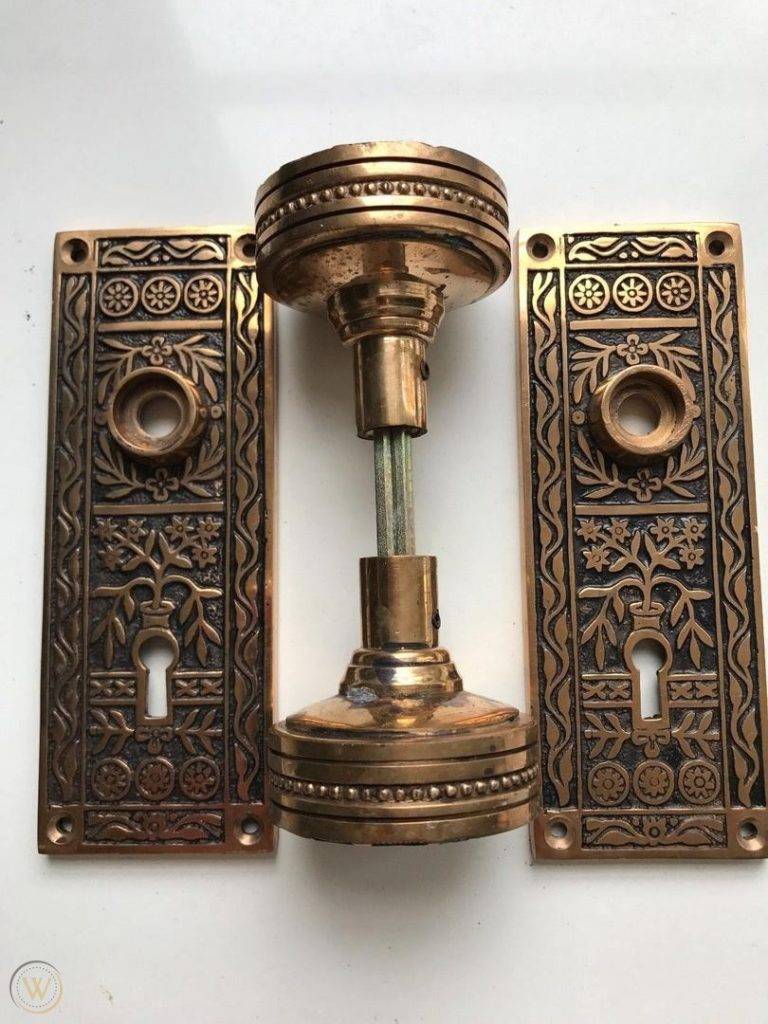 My parents have a meticulously decorated house. Each antique item has been carefully selected, with thought going into each and every detail. In a house that crafted you would never guess the most popular room: the hallway guest bathroom. Nearly every guest at some point compliments the room after using it, and with good reason. A tiny half bath with a pull-chain toilet, it has beautiful Victorian-inspired cream and moss avian wallpaper and oak wainscoting. But the standout feature is the door hardware. The doorknob and faceplate are both brass, with an intricate relief carving of bamboo and geometric fan shapes. The door hinges mirror this design, with the leaves and knuckle all bearing the same pattern, finished off with crown-like pin tops. None of their guests ever expect to see such beauty in door hardware, but that might be because they have not encountered Eastlake design.
Charles Eastlake and the History of Eastlake Design
Eastlake design's namesake and originator was English architect Charles Eastlake (1836-1906). His 1868 book, Hints on Household Taste in Furniture, Upholstery, and Other Details, was highly influential in England and the United States. The Eastlake style was developed in response to the highly decorative Rococo and Renaissance revival styles prominent in the Victorian period and came in lockstep with the Arts & Crafts Movement. Both movements valued artisanal products over machine production, seeking high-quality handcrafted design without the heavy ornamentation of earlier Victorian-era styles.
Eastlake's book offered descriptions about furnishing and decorating a home, with careful attention to cleanliness. The book also had detailed illustrations of chairs, tables, cabinets, doorknobs, and just about every other household item you could think of, all in his signature design style. The Eastlake style is recognizable for its combination of natural and geometric design elements within intricate patterns, as well as the use of rectilinear forms. While Charles Eastlake had intended the works to be reproduced by craftsmen taking great pride in their work, many of the designs were created using mechanical means (particularly within the United States). This shift to mechanical production allowed the objects to gain wider popularity and be available to a wider audience. While popular at the end of the 19th century, Eastlake style's reduction in ornamentation and focus on functionality helped pave the way for Modernism in the decades after Eastlake's popularity waned.
Eastlake Door Hardware
While the ornate chairs and tables of Eastlake may feel like too much for some contemporary interiors, there are still ways to incorporate Eastlake design in your home. Door hardware is an excellent way to incorporate character (and a little design history) into any interior. Eastlake door hardware was most often made of brass and features a relief design heightened by changes in texture. There are many, many different relief designs available, to fit any design motif or taste. While you can purchase reproductions, it is not difficult to find original Eastlake hardware. With a little elbow grease, you can make this hardware look good as new and have all of your guests asking where you found it.
Doorknobs, with or without accompanying faceplates, are a subtle way to add Eastlake design. Perfect for bedrooms, closets, and bathrooms, these doorknobs can add an intentional element of design to an otherwise often overlooked part of a home.
If you would like an even more subtle way to add Eastlake elements to your home, you can incorporate faceplates. They can be used with matching doorknobs for the full effect or used with other knobs for creative and playful door hardware.
If you would like to incorporate other antique design elements, glass door knobs would look lovely with Eastlake faceplates. You can find vintage glass door knobs in clear, white, and even fun colors like red and purple.
Finally, Eastlake hinges are an understated way to include the style in your home. These intricate and beautiful hinges would be perfect for doorways that are often left open, adding beauty to an otherwise overlooked area. You could find matching patterns for all of your door hardware, or mix and match for a more creative approach.
Whether you have a vintage-inspired home, a bohemian aesthetic, glamorous décor, or anything in between, Eastlake hardware can be a great way to add design, and history, to unexpected places.
---
Megan Shepherd is a curator, freelance writer, and artist. She has worked in fine art museums for a decade and holds two Master's degrees in the field. When she takes a break from art she enjoys science-fiction books, antiquing, backpacking, and eating her weight in Dim Sum.
WorthPoint—Discover Your Hidden Wealth®
(Visited 15 times, 1 visits today)