For the past several years, the home bar has been having a "moment." Shelter magazines and Pinterest boards heralded the design opportunities of the bar cart, and when the pandemic hit in March 2020, folks had to create their own watering holes at home. The scramble to collect Instagram-worthy barware did not necessarily extend to more traditional wares such as Toby jugs, but there are some vessels that are timeless despite having little to no connection to the modern world. I believe this to be especially true of stirrup cups.
The first stirrup cups were first produced in ancient Rome, but the modern collector is, of course, most familiar with the eighteen and nineteenth- century iterations from England and Scotland. The hunt was, of course, a ritualized event for the landed gentry. It is no surprise that upon arrival or departure, participants would be treated to a drink. Servants would pass refreshments, be it a wine or spiced punch, to hunters already on horseback, their feet placed in the stirrups. Some glasses would be the size of shot glasses, while others could be as large as stemless wine glasses. Generally, stirrup cups are decorated with animals related to the hunt. These can include hounds, foxes, stags, hares, horses, and more.
Stirrup cups, like all drinking vessels, are made from a fairly limited range of materials. The most prized stirrup cups were made from sterling silver. Antique sterling examples regularly fetch thousands of dollars at auction. Even more modern sterling cups, such as those made by Gucci in the 1970s, sell quite well. Of course, silver-plate is less inherently valuable, but plated stirrup cups are still desirable for their shine and detailed designs.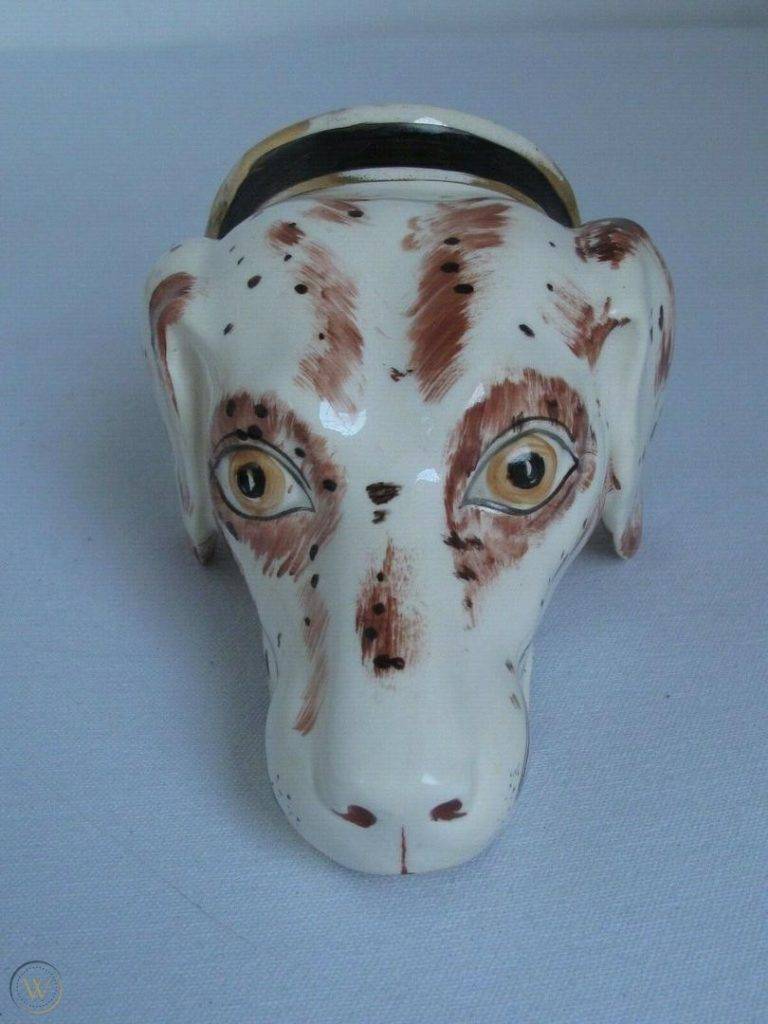 Staffordshire iterations of the stirrup cup are also high performers in the collectibles market. Staffordshire, the specific ceramics produced in central England from the eighteenth century onwards, is in itself a popular category of collectible. The topography of the region, with its dense natural layers of subterranean clay, made Staffordshire an incredibly productive area. Manufacturers made a huge variety of ceramic wares, from tableware and vases to hand-painted stirrup cups. Of course, ceramic stirrup cups are less durable than their metal counterparts, but this makes them all the more valuable in good condition. Staffordshire examples can sell for upwards of $1,000USD in some instances.
Pewter, which also has ancient origins, was a durable, affordable choice that could be rendered into stunning designs by skilled craftsmen. Though beautiful, these items do lack functionality for the modern buyer, as pewter previously contained lead, which, of course, should be avoided. That said, antique pewter stirrup cups make lovely ornaments for a bar or table setting, giving them plenty of collecting value. For less than $50USD, you could begin a very attractive collection of cups.
Though the average person rarely finds themselves on a horseback hunt through the countryside, the stirrup cup has staying power in the collectibles market. Their expressive quality, refined details, and genteel origins make each cup a special treat. Certainly any home could use the whimsical addition of an animalier stirrup cup, be it on your eclectic bar cart or in your formal china cabinet.
---
Lauren Casolo is a fine art and antiques appraiser based in Atlanta, Georgia with several years of experience in the art advisory, insurance, and auction industries.
WorthPoint—Discover Your Hidden Wealth®
(Visited 6 times, 6 visits today)