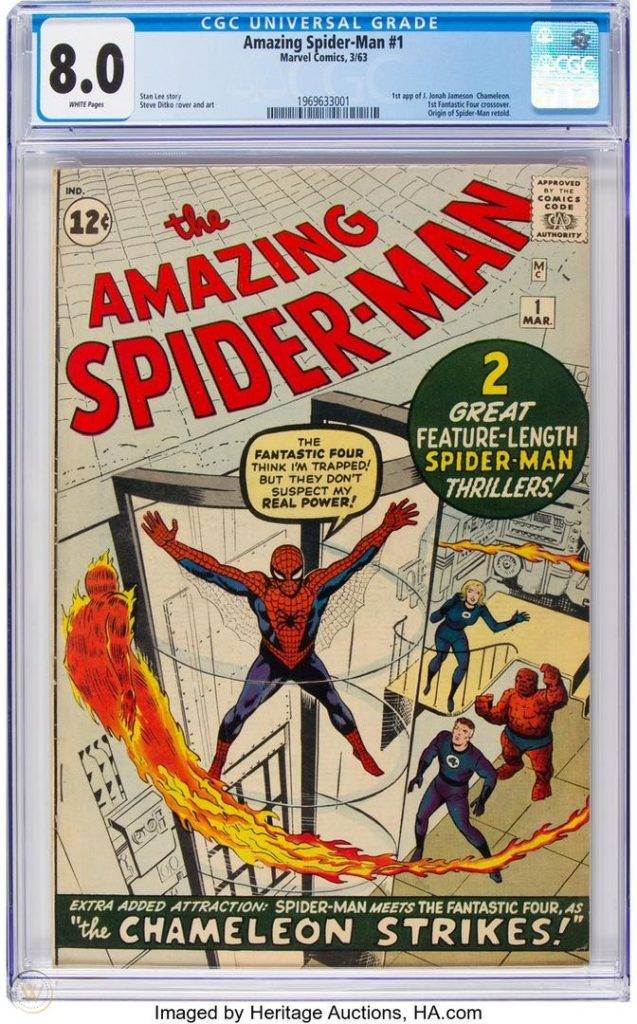 Did you know that your friendly, neighborhood Spider-Man has been slinging webs and saving the world for more than half a century?
Spider-Man, the brainchild of writer Stan Lee and illustrator Steve Ditko, was introduced to the world in 1962. Since that time, Spider-Man has become one of the most prominent superheroes in Marvel comics. To understand why Spider-Man has been a hit with global audiences, let's examine the history of this Marvel superhero in detail.
Who Is Spider-Man? Everything You Need to Know About This "Amazing" Marvel Superhero
Peter Parker, a poor teenage orphan, was introduced to the world in Marvel's Amazing Fantasy #15. Parker became Spider-Man after a radioactive spider bit him. At this point, Parker gained the ability to cling to walls like a spider. The radioactive spider bite also gave Parker superhuman strength, speed, and agility — all of which would eventually help him protect the world from evil.
Parker initially used his superpowers to become a TV celebrity. Following his first on-camera performance, Parker ignores a criminal who steals the TV station's box-office receipts. The seemingly innocuous action ultimately sets the tone for the entire Spider-Man comic series.
Within a few days of the burglar stealing the box-office receipts murders, the same criminal murders Parker's Uncle Ben. From that day forward, Parker vows to use his superpowers to fight crime.
Amazing Fantasy #15 was a resounding success, and it led to the launch of The Amazing Spider-Man series in March 1963. In the years to follow, Spider-Man engaged with the Human Torch, the Incredible Hulk, and many other Marvel superheroes in The Amazing Spider-Man comics.
Spider-Man garnered attention from readers worldwide, thanks in large part to his differences from other Marvel superheroes. In addition to battling villains, Spider-Man often dealt with money problems or romantic quandaries. These issues helped make Spider-Man relatable to everyday people — and accelerated the growth of the Spider-Man franchise.
In March 1972, Spider-Man was prominently featured in Marvel Team-Up, a bimonthly comic that ran for 150 issues. Over the course of Marvel Team-Up, Spider-Man was paired with nearly every Marvel superhero.
Along with Marvel Team-Up, Spider-Man appeared in Peter Parker: The Spectacular Spider-Man, which debuted in December 1976. The Spectacular Spider-Man series continued for two decades and consisted of 263 issues.
In August 1990, the Spider-Man comics series featuring illustrations from Todd McFarlane were released. The comics marked the first time Marvel released a single comic book with multiple covers.
Spider-Man has become a staple of Marvel's entertainment empire. He made his film debut in 2002 and has appeared in multiple movies over the years. Meanwhile, Spider-Man continues to give Marvel fans lots of reasons to smile, particularly those who want to collect comics that will likely increase in value in the years to come.
How Much Is a Rare Spider-Man Comic Worth?
Collectors often look far and wide for rare Spider-Man comics — and for good reason. CBR reports that rare Spider-Man comics have been valued at over $1 million, particularly if they are in pristine condition. If you're lucky enough to find a rare Spider-Man comic, you can hold on to it and watch its value increase. Or, you can sell your comic and likely earn a huge profit.
If you want to pursue rare Spider-Man comics, there is no shortage of options at your disposal. You can look online to find dozens of Spider-Man comics dating back to his debut. You can also explore comic book shops and collectors events across the country because you never know when a rare Spider-Man comic will appear.
Which rare Spider-Man comics are the most valuable? Here are five rare Spider-Man comics that are sure to make your Spidey sense tingle:
1. The Amazing Spider-Man #1
The Amazing Spider-Man #1 was available for only 12 cents when it debuted in 1963. In the issue, Spider-Man saves an astronaut (but is wrongly accused of deliberately causing the space capsule to nearly crash) and partners with the Fantastic Four to battle the Chameleon.
2. The Amazing Spider-Man #3
The Amazing Spider-Man #3 highlights Spider-Man's first battle with Doctor Octopus. Although Spider-Man defeats Doctor Octopus, the evil doctor has many encounters with the web-slinger in the issues that follow.
3. The Amazing Spider-Man #5
The Amazing Spider-Man #5 depicts the first time Spider-Man encounters Doctor Doom, a legendary villain across Marvel comics. Doctor Doom originally believes Spider-Man will join him in his quest to defeat the Fantastic Four. He quickly discovers, however, that Spider-Man is committed to stopping evil in its tracks.
4. The Amazing Spider-Man #14
The Amazing Spider-Man #14 marks the first appearance of the Green Goblin. It also includes an appearance from the Hulk and other Marvel superheroes and villains.
5. The Amazing Spider-Man Annual #1
The Amazing Spider-Man Annual #1 includes 72 pages of web-slinging action. It features the introduction of The Sinister Six, a collection of villains who work together to thwart Spider-Man. The issue also includes biographical pages for each villain, details about Spider-Man's powers, and other perks you won't find in other Spider-Man comics.
Start Building Your Spider-Man Comics Collection Today
Spider-Man is a beloved Marvel superhero, and Spider-Man comics are valuable collectibles. If you want to start collecting Spider-Man comics, we encourage you to check out our Worthopedia® so you can learn about the recently sold prices of various Spider-Man comics. We also encourage you to check out our comic book pages in the WorthPoint Dictionary ™ to build your comic book knowledge. Using our WorthPoint tools will ultimately help you build your collection.
---
Dan Kobialka is a self-employed content writer and editor with about a decade of experience. He produces content across a wide range of industries, including antiques, insurance, and real estate. To learn more about Dan, please visit his website: www.dankobialka.com.
WorthPoint—Discover Your Hidden Wealth®
(Visited 14 times, 4 visits today)