The collaboration of Laughton & Sons Ltd. (the owners of Stratton compacts & accessories) & Josiah Wedgwood & Sons Ltd. was one that worked so well. The owners of the Stratton brand would commission Wedgwood to make commemorative plaques to adorn their vanities. Royal occasions were often marked by the crafting of limited edition Wedgwood Stratton powder compacts. For example, the Silver Jubilee of Queen Elizabeth II and the marriage of HRH Prince of Wales to Lady Diana Spencer.  Wedgwood have a long association with European royalty.
The company was founded on 1st May by Josiah Wedgwood. He was the grandfather of Charles Darwin. Josiah Wedgwood was a potter who was credited with the vision to see the need for industrialisation of the pottery industry. He was born in Burslem, in an area known as 'The Potteries', in Staffordshire. Even when he was nine years old he was considered a skilled potter. He survived a serious attack of smallpox which considerably weakened his knee. As a result of this he was unable to work the foot pedal of a potter's wheel. This weakness did not deter him from being involved with the making of pottery. He now focused his efforts on designing pottery. When he was in his twenties he began working with the well known & celebrated pottery-maker of the era – Thomas Whieldon.
Whieldon was so impressed with his hard work and talent that he offered him a partnership in 1754.  Great experimentation took place & large amounts of money were invested by Josiah Wedgwood, who had married a wealthy distant cousin, Sarah Wedgwood in 1764.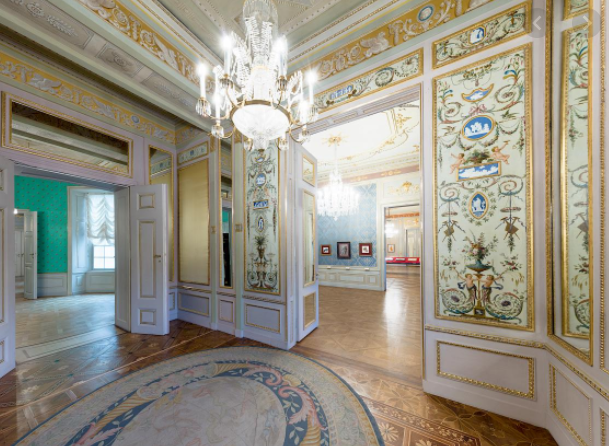 WEDGWOOD ADORNS THIS ROOM IN THE PALACE OF ARCHDUKE ALBERT
Josiah Wedgwood was very interested in the scientific methods that were being developed & how they may advance his business. His unique glazes began to make his pottery look different from anything else available at the time. This 'look' garnered him much business from European royalty, as well as the rich & famous. He is probably the most well known potter of this era.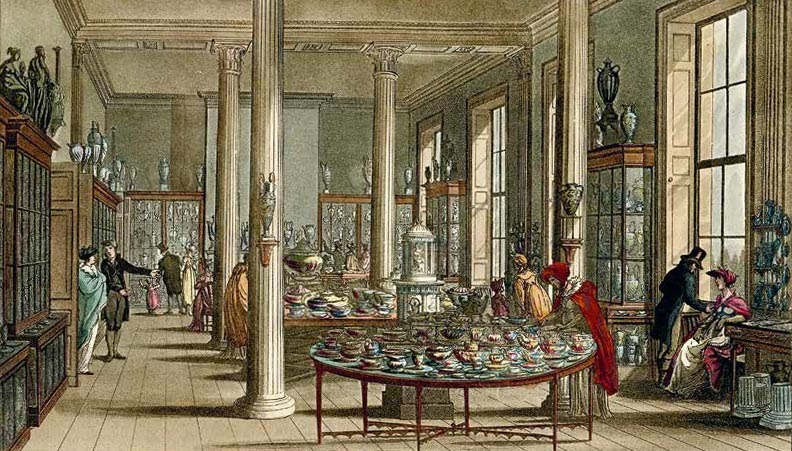 THE WEDGWOOD & BYERLY SHOWROOM AT YORK STREET, LONDON
By 1763 Wedgwood had persuaded Queen Charlotte to allow him to name the pottery she had purchased as 'Queen's Ware'. What a marvellous boost for trade! 
This association was made very public as it featured on Wedgwood stationery & paperwork.
In 1926 the firm was still trading on this name as this advertisement shows.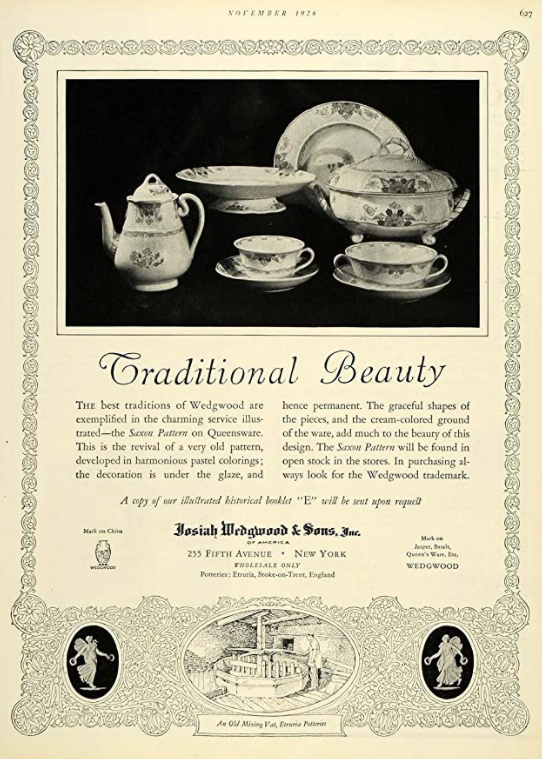 Catherine The Great of Russia ordered the Green Frog Service from Wedgwood.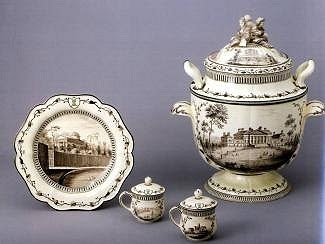 PART OF THE GREEN FROG SERVICE
  © The Hermitage Museum
The Green Frog Service is now on display at The Hermitage Museum, St Petersburg.
The Green Frog Service was made between 1773 and 1774.  It gained its name as it has a little green frog motif painted on the edge of each item. It was made for Chesme Palace which Catherine had built near a marshy area of land known as 'La Grenouillere' which means 'the frog marsh'. This service is made from 'Queen's Ware' which is porcelain. 'Queen's Ware' was extremely popular in Europe.
In 1766 Wedgwood bought a large Staffordshire estate (Etruria) where both his home & factory were situated. After experimenting with kiln temperatures he perfected the skills needed to produce two new 'wares' – 'Black Basalt' & 'Jasperware'. 'Jasperware' was by far the most successful. It was made to look like the ancient cameo glass. The inspiration for Wedgwood 'Jasperware' was the Portland Vase.
                                              .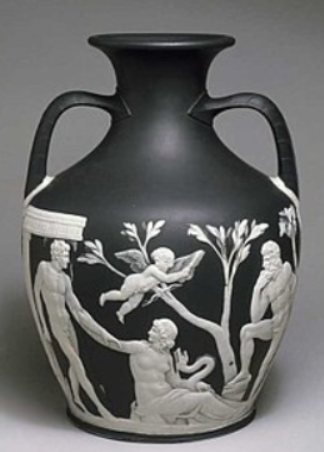 THE PORTLAND VASE 
© The British Museum
This Roman vase was made 5 – 25 AD & it can be seen at the British Museum in London.
Reproducing the Portland Vase became an obsession for Josiah Wedgwood who created the 'Portland Blue' after experimenting with more than 3000 samples.