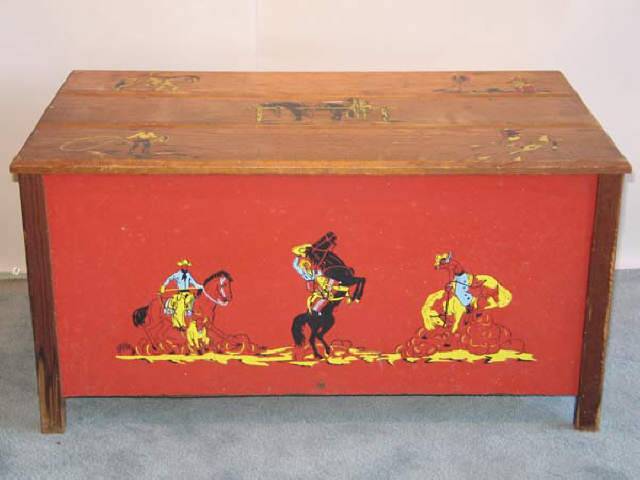 Santa came and went. The tree is looking a bit wilted. Wrapping paper and empty boxes are strewn about. And the toys…oh my, what are you going to do with all of those new toys?
My kids are older now, but boy do I remember panicking as I looked at the chaos left behind after Santa scurried back up the chimney and well-meaning, oh-so-generous grandparents and aunts and uncles returned to their tidy homes. Where was I going to put everything?
When it comes to making room for the new stuff, there are a couple of choices. You can definitely find some great storage options for the new things. I'm thinking beyond closets and shelves. Wouldn't it be nice to stash all of those brightly colored plastic toys in a cool, vintage toy chest? There are plenty of different styles and finishes, from the kitschy designs of the 1950s to solid wooden chests from earlier decades to even a plastic football-shaped chest from the 1970s. Here's a look at some vintage toy chests through the decades.
First, Out with the Old
Actually, before we start talking about vintage toy chests as storage, let's discuss another way to make room for the new toys and gadgets: Get rid of the old ones. I'm not saying just toss them in the garbage, of course. Especially if they were barely used. I can't help but think of the many, many toys my girls just absolutely had to have on Christmas morning that they maybe ended up playing with once or twice!
You can certainly donate gently used toys to any number of organizations although these days, many places are only taking new items. How about selling them online? This year, I wanted to buy my little niece an 8-inch Madeline doll, along with Madeline clothes and accessories, for Christmas. She loves my daughter's Madeline collection (I'm keeping it for my granddaughter!) and enjoys playing with it when she comes here, so I wanted to purchase a similar set for her. Other than the doll, the other items are no longer manufactured, but I did find a ton of stuff online. Take a look at what you have and maybe discuss with your kids what they are willing to either give away or sell.
The Many Styles of Vintage Toy Chests
As I mentioned, there are many different types of vintage toy chests, from wood to plastic and everything in between. The room where you decide to keep the toy chest will help you best determine what type of style you want.
Where are you Stashing the Toy Chest?
Is this going to be kept in your family room or living room? If so, maybe a wooden chest would work best. You could look for a simple, vintage handmade chest made of pine, something that would blend in with your furniture. Or perhaps a more streamlined toy chest with dovetail joints. A wooden toy chest you can paint to match your décor is another way to go.
If you plan on keeping the toy chest in your kid's bedroom or playroom, you can definitely choose one that's a bit more whimsical. You can find one decorated with cowboys or perhaps a Davy Crockett-themed one from the 1950s. There's always that football-shaped plastic chest that I'm sure any sports-loving child will love. Vintage toy chests from the 1950s and 60s can be made of wood, metal, or tin, all with unique themed designs, including Snoopy, pirates, and more.
Added Attractions
Decide if you want one with a cover, and if so, make sure it's safe for kids. I definitely remember playing with my cousins in their basement where they had their toy chest, and one of us was always crawling into it for one reason or another, maybe when we were playing hide and seek. Or, my older brother and cousin would put one of us inside the chest and sit on it until we screamed to be let out. Not the safest game to play but then again, it was the 1960s…I cringe now to think how so not safe that was!
Or, perhaps a toy chest on wheels or handles is the way to go. This way, it can be moved from room to room, where ever the mess ends up. You can encourage your kids to take the toy chest with them as they move from room to room so they'll have no reason not to put their toys away (a mother can dream!). Some toy chests have a cushioned top (or you can make one) so they can double as seats, which can be a nice option in a room with limited seating.
Beyond Toy Chests
If a vintage toy chest isn't your thing, you can use vintage trunks and suitcases to stash toys away. How about a large antique steam trunk? These are very popular and easy to find online and in thrift stores. These stylish trunks can add a bit more panache to your toy storage dilemma. Or, if you want to go all out when it comes to style, Louis Vuitton suitcases are a pretty cool option.
Whatever style you choose, vintage toy chests are both a practical and stylish way to stash those brand new toys away…until next Christmas, at least!
---
Lisa Mancuso has an Associates Degree from the Fashion Institute of Technology and a Bachelors Degree from Stony Brook University. She has worked as the Associate Director for Creative Marketing at McCall's Magazine. As a staff writer at the National Association of Professional Women, Lisa wrote feature articles for the bi-monthly online newsletter. She has served as a reporter for the Northshore News Group and ICD Publications.
WorthPoint—Discover Your Hidden Wealth®
(Visited 106 times, 7 visits today)