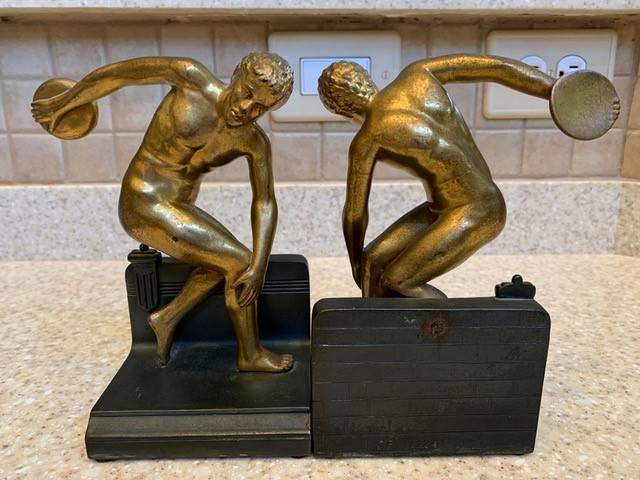 QUESTION: I own a pair of Jennings Brothers Discus Thrower bookends. The base is impressed "JB 1924." The pair weighs five pounds, 10 ounces. I thought they were made from bronze, but the color looks more like brass. The bases are oxidized a bit as if they were made of copper. What is their composition? Do you have any idea what they might be worth? – WS, Email Question
ANSWER: The three Jennings brothers founded The Jennings Brothers Metal Foundry, located in Bridgeport, Connecticut, in 1890. [Note: A second source lists the start date as 1891 and a third source as 1892.] The Jennings Brothers offices were originally located in two small wooden buildings and the foundry in a brick building. Eventually, Jennings Brothers built a large factory building on Elm Street in Bridgeport. In 1906, Jennings Brothers opened a salesroom in New York City.
Jennings Brothers specialized in manufacturing metal art. Its Art Nouveau and Arts and Crafts metal art included candelabra, clock housings, figurines, lamps, jewelry boxes, statues, and some silver-plated utensils. Many pieces were plated in ormolu (trademarked J.B. "Ormolu Gold" and bronze ("Nouveau Bronze.")
In the 1920s, Jennings Brothers added a line of high-quality bookends to its manufacturing line. A talented pool of artists, sculptors, and metal craftsmen combined with expensive production techniques produced finely crafted art metal bookends through the 1920s and 1930s. Bookend production ceased when Jennings Brothers changed their manufacturing focus in the early 1940s to producing war supplies.
Jennings Brothers bookends are made from a cast gray metal. Few examples are artist signed. All pieces are marked "JB" and a three or four-digit catalog number. The 1924 that appears on your bookends is a catalog number and not the year of manufacture. A few pieces are marked "Trademark J.B. Signifies the Best."
When Jennings Brothers went out of business in 1953, a Philadelphia company purchased many of its art object casts. These were used to produce inexpensive versions of the period JB items. These lesser quality pieces were sold at art auction galleries in tourist areas, such as the boardwalks along the New Jersey shoreline.
WorthPoint.com contains a listing for a pair of JB 1924 Discus Thrower bronze plated bookends that realized $119.00 when sold on eBay on April 3, 2018. WorthPoint also has a listing for a single Discus Thrower bookend that sold on eBay on June 18, 2018, for $75.00. Judging by the retail asking prices for JB bookends on Auntique & Uncle Tony's website, the selling-through prices appear low.
The images accompanying your email suggest your pair of JB 1924 Discus Thrower bookends are in fine or better condition. A fair retail secondary market price is between $150.00 and $175.00 for the pair.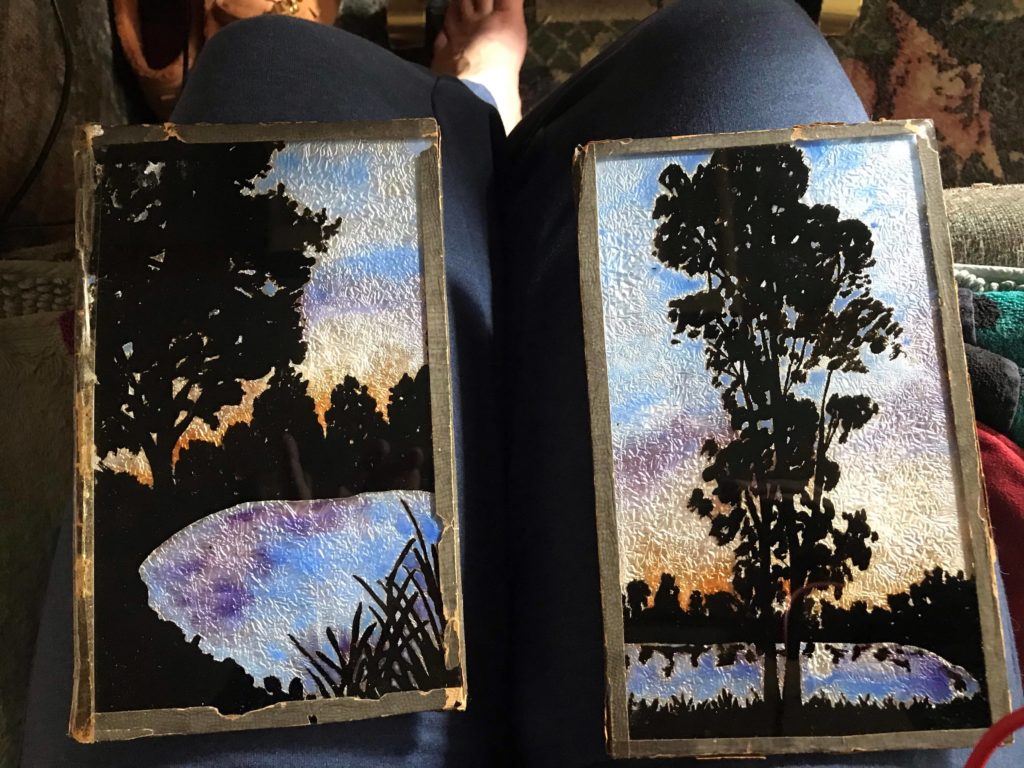 QUESTION: I have two paintings on aluminum foil. The nature theme features trees by a lake. The frame size is 5-inches by 8.5-inches. On the back of the paintings was a note with "1938," my aunt's name, and information that makes no sense to me. Do they have any value, or should I just toss them? – JP, Email Question
ANSWER: Your two pictures fall into the "foil pictures" or "aluminum foil pictures" collecting category.
Inexpensive, mass-produced silhouette pictures, many of which had an early American colonial or Victorian theme, were extremely popular in the 1920s and 1930s. A wide variety of backings, including aluminum foil, were used for the silhouettes, which usually were done as reverse paintings on the glass or cutout paper. The pictures usually were sold in pairs.
Your question allows me to recount a story from one of my early appraisal clinic experiences. I was appraising items at an antiques show in Kutztown, Pennsylvania, when a grandmother and granddaughter appeared at my table. After placing a small cardboard box on the table, the grandmother said: "My granddaughter is about to begin her studies at Kutztown, and I am ready to sell the most valuable thing I own to help her pay her tuition." I opened the box and discovered a matched pair of silhouette pictures with aluminum foil backing. At the time, $15.00 to $20.00 for the pair was a generous price. When I offered my advice as to the history of the pair and their secondary retail value, the grandmother became irate. She accused me of a number of things, from impugning my knowledge to the circumstances sources surrounding my birth.
The grandmother demanded to see the show manager. I explained the situation to the show manager and showed her the two objects. She took one look and knew I had told the grandmother the honest but brutal truth. The show manager asked the grandmother why she thought the pictures had a high value. The grandmother had taken the pictures to a $25.00 per object appraisal clinic run by Christie's and sponsored by the nearby Allentown Art Museum. Rather than tell the grandmother the truth, the Christie's appraiser asked the grandmother if she had any intention of selling the pieces. When the grandmother answered in the negative, the Christie's appraiser told her "these items are priceless." The Christie's appraiser forgot to add "to you" to her statement. The grandmother interpreted priceless very differently than the Christie's appraiser.
Your pair of framed, silhouette, tinsel-backed artwork has a secondary market retail value between $10.00 and $15.00, assuming, of course, you can find someone willing to pay it. Do not hold your breath. Offer them to your surviving family members. If no one steps forward, donate them to your church charity sale or a local charitable organization.
QUESTION: I have a 1947 postcard which features images of Walp's Restaurant and Guest House located on Route 22 between Allentown and Bethlehem at the intersection leading to the Allentown and Bethlehem airport [Union Boulevard and Airport Road]. It has a linen finish. Does the postcard have any value? – RK, King of Prussia, PA, mail question.
ANSWER: Are you kidding? Anyone who ever ate at Walp's, something I did numerous times, knew that Walp's epitomized the old Pennsylvania German expression: "Learn what good is." Walp's was going out to eat at home. Its recipes were standard fare at homes across eastern Pennsylvania.
A list of Walp's favorites would require several pages – boovashenkle (boy's legs – pirogi-style filled noodles covered with beef gravy and buttered bread crumbs), Dutch apple tarts, lettuce with hot bacon dressing, schnitz un knepp (ham and dumplings), rhubarb custard pie, slippery noodle chicken pot pie, Walp's creamed cabbage, and wet bottom shoofly pie.
[Author's Aside: Pardon me while I wipe the drool from my mouth]
Robert and Blanche Walp founded the restaurant, a Lehigh Valley institution, in 1936. When Robert and Blanche retired, their son Donald took over. Frank Nikischer, Donald Walp's brother-in-law, was the last to own the restaurant. From the 1940s through the late 1990s, Walp's was the place to go for anniversaries, birthdays, and wedding receptions. Walp's closed the Sunday after Thanksgiving in 1998. More than 2,000 guests showed up to savor one last meal. The Walp's family recipes live on through Frank Nikischer's "Walp's Family Restaurant Cookbook," first published in 1999. Copies are hard to find. No one who has one wants to give it up.
From my point of view and using the Christie's concept described above, your Walp's postcard is priceless. In reality, it is worth between $1.00 and $2.00, perhaps a little more to a Lehigh Valley resident whose memories match mine.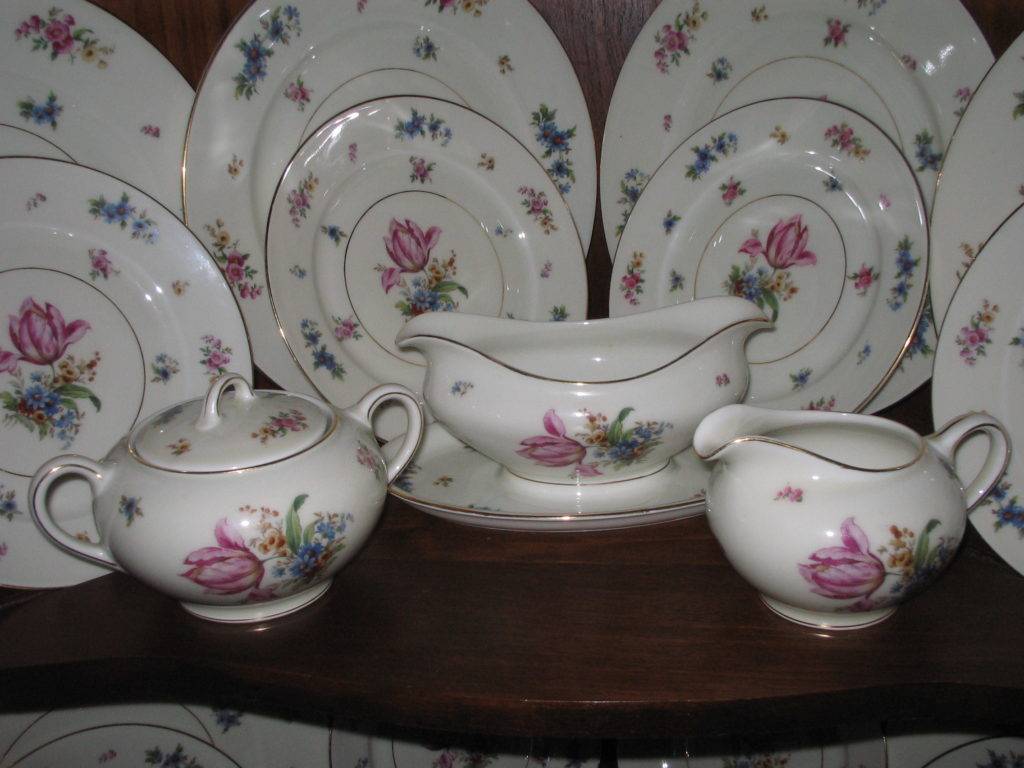 QUESTION: I have a complete service for eight plus many extra serving pieces of Baronet's "Bohemian Tulip" pattern dinnerware. "Made in Czechoslovakia." is part of the mark on the back of the plates. Is it worth having the service appraised? – RB, Email Question.
ANSWER: If you are expecting a high evaluation, the answer is no.
The first thing I do when appraising a dinner service is to check the pattern's popularity on Replacements, Ltd. Replacement ranks a maker's patterns by popularity. This is critical to value because the more popular a pattern is, the easier it is to find replacement pieces should a piece in the service break, be damaged, or missing. Replacements, Ltd. features 98 patterns for Baronet, not one of which matches the pattern of your set. An internet "Baronet Bohemian Tulip pattern" also proved negative.
If this pattern was sold in the United States, it was sold in small quantities. Another possibility is that a GI stationed in Europe/Germany after the war bought the set and shipped it home. Again, this means that finding replacements for broken, damaged, or missing pieces is next to impossible.
The primary value for the dinnerware service is reuse. Chances are it is not dishwasher safe, another major sale deterrent. Given all this, you would pay an appraiser more to appraise the service than it is worth. My advice is to take any offer over $100.00 if you wish to sell it. Otherwise, consider donating it to a charitable organization and let them dispose of it.
---
Harry L. Rinker welcomes questions from readers about collectibles, those mass-produced items from the twentieth and twenty-first centuries. Selected letters will be answered in this column. Harry cannot provide personal answers. Photos and other material submitted cannot be returned. Send your questions to: Rinker on Collectibles, 5955 Mill Point Court SE, Kentwood, MI 49512. You also can e-mail your questions to harrylrinker@aol.com. Only e-mails containing a full name and mailing address will be considered.
WorthPoint—Discover Your Hidden Wealth®
(Visited 22 times, 10 visits today)