#RESTAURANT #MENUS #FLIP #SKIP #WorthPoint
PODCAST:
Episode Summary:
Welcome to Flip It or Skip It Episode 82 with our hosts, Danna Crawford and Wayne Jordan. In today's episode, the duo discusses finding, researching, and flipping restaurant menus.
What Will Be Learned:
Understanding the secondary market for restaurant menus
Two broad categories of menus for collecting and flipping
What universities and libraries do with their restaurant menu collections
Ways to organize menu collections for flipping and marketing
Tips for listing restaurant menus on eBay
Episode Review:
00:04 – Introducing today's topic: restaurant menus
00:28 – Why menus are fascinating, historically and artistically
01:03 – What makes menus a great item to flip
01:24 – University and library menu collections
03:18 – Printed menus are becoming obsolete
06:32 – Various ways collectors collect menus
08:25 – Laminated and photo menus
09:07 – What researchers do with menus
09:38 – Message from our sponsor
10:52 – Collecting menus based on geography
11:42 – Los Angeles rare book menu collection
12:51 – Two broad categories for collecting and flipping menus
18:52 – Parting words of advice
TUNE IN: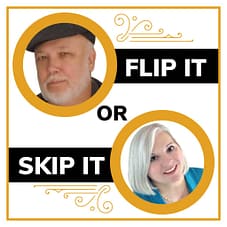 Key Takeaways:
Starting the episode, Danna and Wayne discuss why restaurant menus are fascinating items to flip or collect
Many Universities and Libraries keep restaurant menu collections for historical research
Danna shares why printed menus are becoming obsolete and what that means for flippers
Wayne shares ways that collectors organize their menu collections and why that is essential info for flippers
Danna has bread and water for breakfast
National Thrifting Week
Unusual places to find menus when thrifting
Danna's tips for listing menus on eBay
Links:
SOCIALIZE WITH FLIP IT OR SKIP IT ONLINE:
SUBSCRIBE TO THE NEWSLETTER:
QUESTIONS:
Learn more about podcast sponsor WorthPoint, the world's largest antiques and collectibles pricing and research database, and receive a free 7-day/7-lookup trial. With WorthPoint and its free app for Apple or Android, you can buy right, sell right, and profit more.
WorthPoint—Discover Your Hidden Wealth®
Further Reading [worthpoint articles]