#Pinback #Buttons #Flip #Skip #WorthPoint
PODCAST:
Episode Summary:
Welcome to Flip It or Skip It Episode 75 with our hosts, Danna Crawford and Wayne Jordan. In today's episode, the duo discusses pinback buttons, the extremely varied collectible that is always in demand.
What Will Be Learned:
Why have pinback buttons been so popular for so long?
What kind of pins are in demand, and how can they be identified?
How critical is an item's condition when it's evaluated?
How can a pin be effectively bought and sold?
What common ways are pinback buttons damaged, and how much damage is too much?
Episode Review:
00:27 – Introducing today's topic: pinback buttons
00:37 – The long story of collecting and flipping these statement-making pieces
03:21 – Collectible Canadian politics pinbacks
06:19 – Wayne discovers antique Marvel buttons selling for $1,000+
07:19 – Hardrock Café: The most collectible restaurant in the world
10:18 – Message from our sponsor
11:04 – Danna finds Rick Springfield at Brimfield
13:12 – Box Lot Buttons: Getting the most money for your least valuable buttons
15:26 – Girl Scout Buttons and anti-Vietnam war Buttons
16:47 – Danna sells pinback buttons on MaxSold.com
18:01 – A back-and-forth on the various conditions of pins
20:16 – Danna's observations about pinback buttons when treasure hunting
21:43 – Bottom line when encountering pinback buttons at sales
TUNE IN: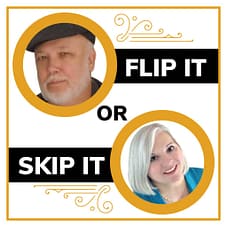 Key Takeaways:
To start things off, Wayne and Danna each offer their impressions and experiences buying, flipping, and collecting pinback buttons.
Danna gives some examples of political pinbacks, one of the more commonly encountered buttons.
Wayne then discusses his findings on eBay. He lays out several variables that significantly affect the value of pinback buttons.
After a word from our sponsor, Danna goes over box lots and the best way to use this method for selling unwanted pinbacks. She then discusses marks that can help authenticate pins of exceptional value.
The duo then discusses how critical the condition of a button is when considering a final selling price. While some forms of wear and tear are acceptable, Danna and Wayne each go over some commonly encountered forms of damage for pinback buttons.
Links:
SOCIALIZE WITH FLIP IT OR SKIP IT ONLINE:
SUBSCRIBE TO THE NEWSLETTER:
QUESTIONS:
Learn more about podcast sponsor WorthPoint, the world's largest antiques and collectibles pricing and research database, and receive a free 7-day/7-lookup trial. With WorthPoint and its free app for Apple or Android, you can buy right, sell right, and profit more.
WorthPoint—Discover Your Hidden Wealth®