During my early years in Erie, Pennsylvania, I often heard my parents' friends tell about working at "the monkey works." Imagine that "child's eye" image! Since Erie was a big manufacturing town at that time, I just assumed they made some kind of, well, monkeys. I was close. It turned out that they made some of the best—and most collectible– toys ever created.
Playsets of the 1950s and 60s
As I grew up, so did television. When Roy Rogers, Davey Crockett, Wagon Train, The Rifleman, and other shows developed, so did Marx Toys playsets focusing on those thrilling characters and shows. In 1955, you could buy a playset for less than ten dollars, and the plastic playsets were filled with realistic characters and settings from the popular shows. In fact, there's an unopened Wagon Train playset on the WorthPoint Worthopedia® that sold for more than $15,000. Marx also produced dollhouses in the 1950s and 60s, made on two scales: one size was ½ inch to one foot, the other was ¾ inch to one foot. You could fill the dollhouse with Marx Toys furniture, made to the same scale, and almost every girl I knew had a Marx dollhouse.
"The Toy King" History
Louis Marx and his brother David started their toy company in New York City in 1919 with two specific ideals: "to give the customer more toy for less money" and "quality is not negotiable." At first, they had no production capability, but the two men soon raised enough money to buy tooling from Ferdinand Strauss Company for Zippo the Climbing Monkey. This tin toy is still a valuable antique, as you can see by its evaluation on Worthopedia. Within two years, Marx sold 8 million of the climbing monkey. Another early success, the Mouse Orchestra, helped make the brothers millionaires by 1922.
Ironically, the Marx Toy Company actually grew during the Great Depression by implementing the six qualities Louis Marx believed were essential for a successful toy: familiarity, surprise, skill, play value, comprehensibility, and sturdiness. They also grew by taking production out of New York and establishing shops at the former Eriez Stove and Manufacturing Company in Erie, Pennsylvania in 1935, and in an Erie suburb, Girard, Pennsylvania, where they took over the Girard Model Works in 1934. They also purchased facilities in Glen Dale, West Virginia. These three towns were suffering economically, and employees were easy to recruit. By 1938 Marx employed more than 4000 workers in America, and more in England. In both the 1940s and 1950s national magazines declared Marx the "Toy King." When he was inducted into the Toy Industry Hall of Fame, his award named him "The Henry Ford of the Toy Industry."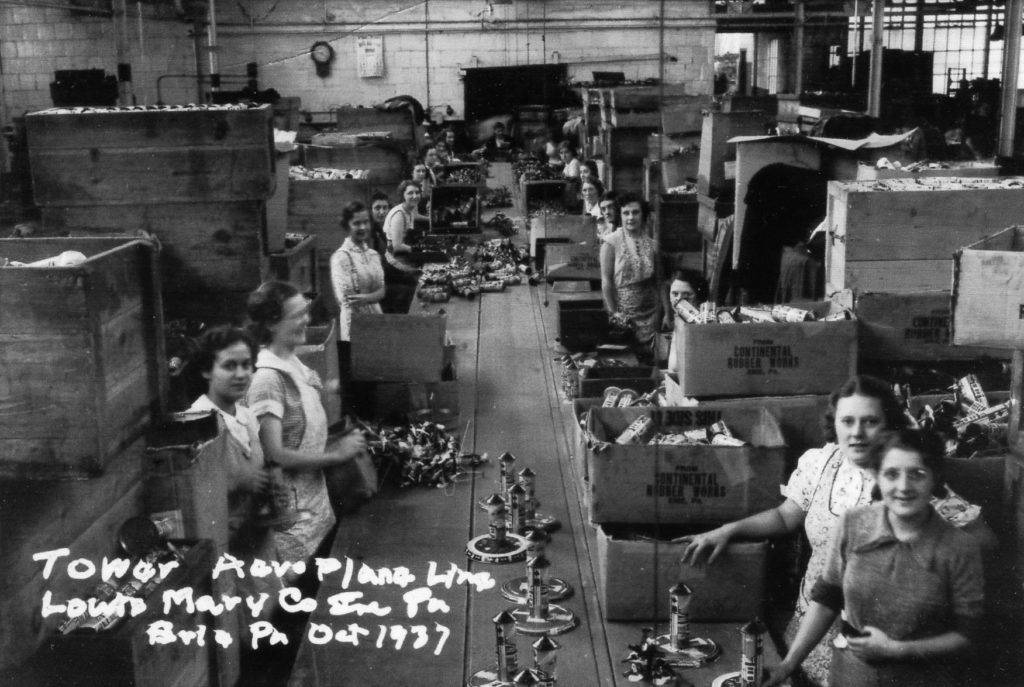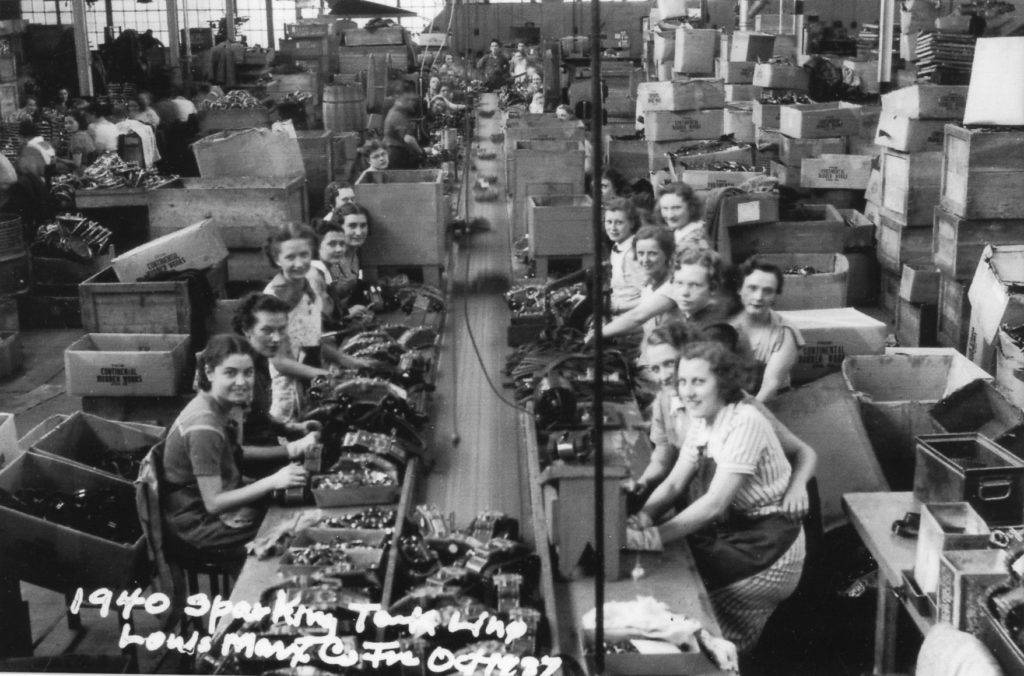 Marx Toys continued to grow as it built more production locations around the world. It expanded into toy trains, called the Joy Line, which were produced in Girard, Pennsylvania. Marx trains, although never as prestigious as Lionel, outsold them for most of the 1950s and 60s. Marx also produced a variety of toy cars and trucks, initially cast iron, then pressed tin. The pressed tin was lithographed with characters of the time, making them even more attractive as toys.
Transportation Toys
Because Marx Toys grew during the time transportation grew, the company was invested in making toys that emulated real life. One of the earliest cars was an open Amos 'n Andy Model T. As Marx began to use lithographs on tin they made trucks, buses, police motorcycles, tractors, stake-bed trailers, firetrucks, even garbage trucks, and of course, the buildings to go with them. They found that producing sets of toys that pictured the gas station, the fire station, the police station, made for more interesting and better-selling toys.
When WWII came along, they made tanks, planes, and even trains. Marx produced its first standard-gauge trains at the Girard Model Works facility in 1934, and today, in Girard, Pennsylvania, you can have a meal at the All Aboard Dinor, not far from the Model Works. The dinor features a standard gauge train that circles along the walls about a foot below the ceiling. My children had a great time watching the train, hearing the horn blow for stops, and eating a dinor meal.
Plastics became the material of choice for creating Marx cars in the 1950s. Production began with inexpensive 4-inch models of domestic cars, such as Ford, Chevrolet, and GMC, and some foreign cars, such as Volkswagen and Jaguar. The cars were plastic and the wheels and axles were metal, although, by the end of the decade, the wheels and axles were plastic, too. Recognizing that children liked to take items apart and put them together, Marx also produced the Fix-All Series, with cars, trucks, and motorcycles. One of its last transportation toys was the Big Wheel, introduced in 1969 and enshrined in the National Toy Hall of Fame.
End of the Line
The company began to see a downhill shift, however, when they tried to compete with the small Matchbox and Hot Wheels cars of the 1960s and 1970s. The advertising dollars spent by competing toy companies, and the high cost of American labor, eventually made it impossible for the company to continue producing the high-quality toys it had made for decades.
Louis Marx and Company was sold in 1972 to the Quaker Oats Company, which also owned Fisher-Price, but the two toy companies operated too differently to combine. In 1975 Quaker Oats closed the Erie and Girard plants, and especially in the smaller town of Girard, people felt a distinct loss. Many men and women had expected to retire from "the monkey works," but they were now faced with finding new jobs.
When production ceased, many of the people who had worked at Marx Toys found themselves with a basement or attic full of unopened toys. Older employees purchased toys thinking of their future children and grandchildren, and many people kept the toys their children had played with. Marx Toys were so popular in the middle of the twentieth century that few people could bear to get rid of them.
Marx Toys Museums: Time Goes By and Men Collect Toys
In Erie, Pennsylvania, the Erie Historical Museum had a great collection of Marx toys. Each year, my mom's friend Betty, curator at the museum, created a display enjoyed by the multitudes of school children visiting the museum. In 1998, Betty gathered a group of Marx toy collectors and some of the city officials and asked them to consider creating a Marx Toys museum. The toy collectors created a museum, located conveniently near an exit on Interstate 90, and it lasted 8 years. It was a gathering place for collectors, former employees, and visitors, but could not produce enough funds to remain open. Today it is a virtual site, maintained by men who share an interest in the toys.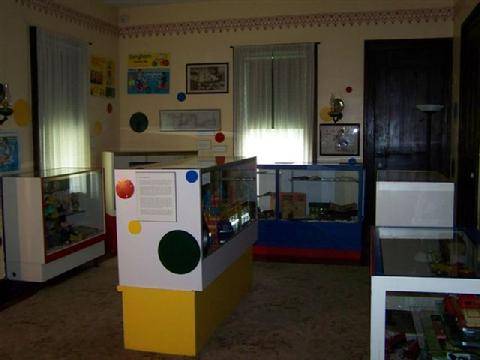 In Moundsville, West Virginia, Marx Toys collector Francis Turner opened the first Marx Toy Museum in 2001 using his collection accumulated over 30 years. The non-profit museum operated for 15 years, then closed in 2016, but it still operates online as a virtual museum. With a website, an active board of directors, and an ongoing mission statement, its collection is still available for showing upon request
Time passes, and many of the men (and women) who worked at the Marx Toys plants have left us. They may be gone, but they have left a legacy of some wonderful toys. Collectors, keep on collecting and sharing the Marx Toys story.
---
Loretta Brandon is a retired writer who lives in Savannah, Georgia. She hails from northwestern Pennsylvania, where she earned a bachelor's degree from Allegheny College and a master's degree from Gannon University. Her interest in antiques and collectibles comes from her parents, both of whom were active in the industry. After retirement, she worked in a Savannah consignment store and a thrift store, and now she has returned to writing about the wide and fascinating variety of items she sees in her antique store ventures. Her passion is lighthouses, and her book, Lightkeeper's Legacy, remains in print.
WorthPoint—Discover Your Hidden Wealth®
(Visited 180 times, 32 visits today)