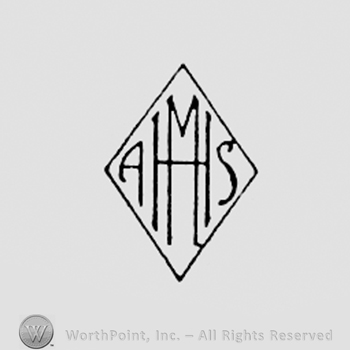 This week's mark identifies an artisan most known for his ability to achieve a dark chocolate patina on his metalworks, a secret chemical formula that he took to the grave. Give up? This mark belongs to Otto Heintz of the Heintz Art Metal Shop of Buffalo, New York.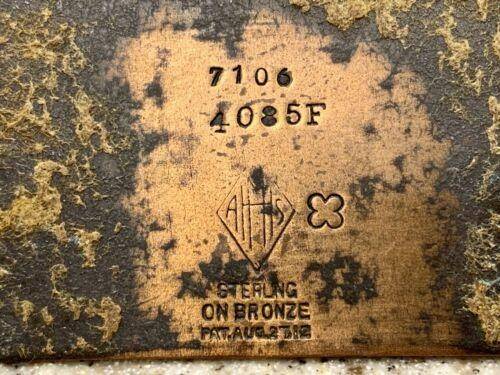 During the heyday of the American Arts and Crafts movement, "brown metal" was extremely popular. With hues ranging from tarnished penny to well-worn leather, these enamel and copper metal pieces were all the rage. But Heintz was not as traditionally minded as some of the movement's adherents. Bucking the conventional use of copper, Heintz favored bronze with a silver overlay.
Heintz added new finishes to his pieces through the years, creating red, green, and brown-gold wares. In 1912, he experimented with electroplated French grey tones and patented his solderless method of applying silver to bronze. He passed away suddenly in 1918, taking with him the secret chemical cocktail for achieving the dark chocolate patina he made famous. The Heintz Art Metal Shop persevered for another 12 years before succumbing to the financial pressures of the Great Depression.
Heintz's art metal lamps are a favorite of collectors. They will often command a higher sum than many of his other items. However, the determined Heintz enthusiast can find less costly collectibles, such as this beautiful silver on bronze cigar tray. His metalworks are easily identifiable. His mark remained the same throughout his career.
To learn more about the Heintz Art Metal Shop, visit our WorthPoint Dictionary page. WorthPoint's Price Guide can help you identify and value your collectible Heintz metalworks.
---
Kele Johnson has a degree in Anthropology with a specialized interest in the Native American tribes of the New World. Kele is a research junkie who loves a writing challenge.  She is a full-time Editor for WorthPoint and also writes for The Insider.
WorthPoint—Discover Your Hidden Wealth®
(Visited 17 times, 6 visits today)