The name of Kigu originates from the first two letters of the surname and forename of its founder Gustav Kiashek. Gustav was of Hungarian origin and was the son of the master goldsmith Josef Kiashek. He produced compacts from his workshop in Budapest. Gustav raised three sons, Charles, Paul and George. Charles was a New York based goldsmith. George moved to London in 1939 where he founded Kigu of London. After WWII Paul joined George. In 1977 on George's passing, his son, David, joined the family firm after completing his university education. Kigu Ltd. were manufacturers of jewellery, accessories and vanities.The pride of producing high quality vanities is shown in their wide variety of styles. In the early 1980s the compact manufacturer (A S Brown) & owner of the Mascot brand bought out Kigu Ltd., then Laughton & Sons Ltd.,(owners of the Stratton brand) bought the Mascot brand.
Kigu powder compacts are famed throughout the world for their beauty & durability. Back in the day they were given as gifts on special occasions. For example a young lady's twenty first birthday or as a wedding gift. They were considered to be expensive gifts that were costly to produce and made by artisans with a high level of skill. 
Essentially they are considered to be an item of jewellery / jewelry, as well as a practical accessory. In the days when ladies powdered their noses, every handbag had to house a powder compact.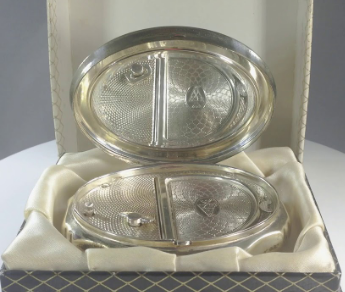 Kigu Ltd. were the only specialist vanities manufacturer who produced a line of sterling silver powder compacts and powder boxes. The rarest of these are the musical powder boxes which were a strictly limited edition. They were scarce at the time of production and extremely rare in the twenty first century. The Kigu tagline 'the goldsmith's tradition' is evident in the high quality engraved decorations that feature in their precious and non-precious metal accessories. The high level of skill was reflected in the great variety of engraving styles.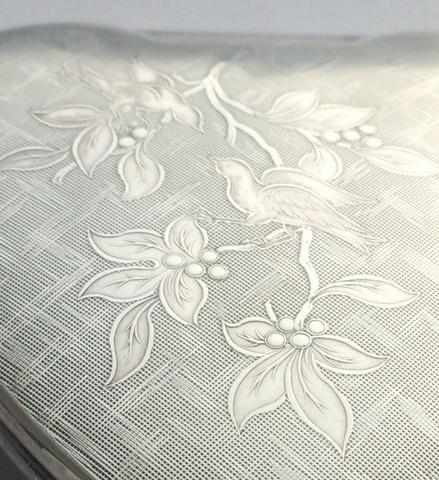 STERLING SILVER KIGU CHERIE SHANTUNG POWDER COMPACT 
This hallmarked silver heart shaped Kigu 'Cherie' was assayed at London in 1942. The lid is decorated with two love birds immaculately presented on a tree branch.  In the Kigu catalogue this style of engraving is referred to as 'shantung'……'which brings to mind the delicate shimmer of silk'.
The engraving does resemble the the silk which was historically made in the province of Shandong. The irregular textures of the silk shimmer in the light. This type of material is often used for bridal gowns & the silversmiths at Kigu captured the essence of this fabric in sterling silver. The "Cherie" range of compacts were especially made as tokens of love by Kigu. The name means 'dear' in French and the compact is shaped like a heart. The tag line in Kigu catalogues for this model of compact was 'For your chosen one, a " Cherie " heart shape!'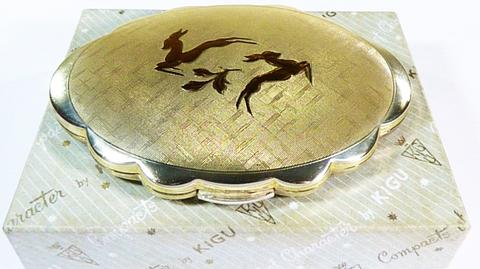 This time the 'shantung' engraving was used to beautify silver plated brass. This rare unused 1950s Kigu 'Bolero' Leaping Deer loose powder compact comes with the original presentation box, black felt pouch, signed puff, velour edged sifter and instruction leaflet, which reads – 'To preserve the silver plating, it is desirable always to carry the compact in the black pochette supplied'.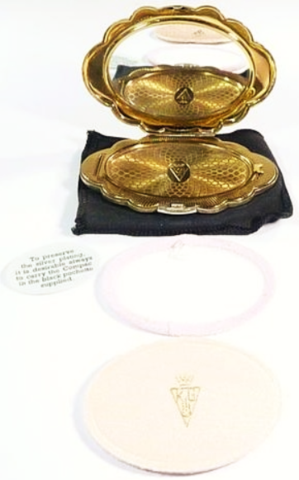 GUILLOCHÉ ENGRAVED INNER LID
The inner lid is adorned with complex guilloché engraving and it is signed 'KIGU'. The maker used this type of engraving to embellish its products. These decorations also served a very practical purpose, as they prevented the appearance of fingerprints on items that would be handled often. The art of guilloché dates back to the 16th century.
By the middle of the 20th century guilloché engine turning had nearly disappeared as an industrial process and at the end of the 20th century, no original firms practicing it survived. It is only practised as an avocation by enthusiasts and very few dedicated professional practitioners. Today only the highest value luxury watches benefit from these engine turned designs.
Kigu Ltd. are also famed for their 'novelty' powder compacts. In terms of vanities the word 'novelty' refers to a compact or powder box that has the appearance of another item. For example a powder compact that looks like a basket. So adorable!
The Kigu vanity set shown above is presented in the original 'luxon' covered case. The makers used cream coloured imitation leather to clad the exterior.  The interior is lined with silk and velvet. The set comprises of one Dolphin 26 Series (26-815) loose powder compact, one Dolphin 96 Series (96-815) cigarette case, a comb with a comb holder and lipstick holder. Each item is decorated with what the makers called the Catherine-wheel design.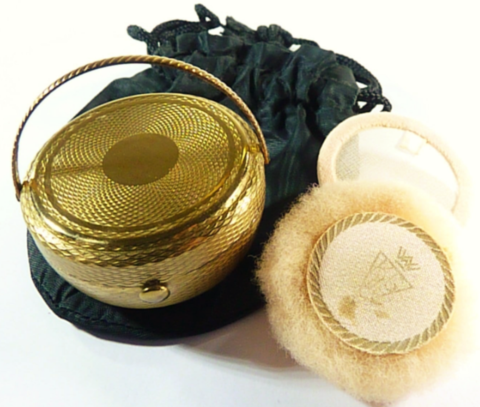 A '63-type' novelty basket loose powder compact with 'graceful handle'. The whole piece is decorated with engine turned engravings. The main body of the basket has engraving which resembles the basket weave design. The lid has a circular cartouche which the makers named the 'initial medallion', as it would often be engraved with the recipients initial/s. The carry handle is also engraved with a pattern that would be seen on the handle of a wicker basket. Such attention to detail! The interior case contains a mirror as well as the signed puff and sifter. The original black drawstring pouch has the appearance of watered silk. The interior is case bears the triangular registered Kigu trademark. It is also signed 'Bouquet REG. DES.' The makers were aware that ladies have better things to do with their time than polish brass and so this item was coated with a layer of transparent enamel as one of the final stages in the manufacturing process. This prevents oxidation and so it will never tarnish as long as the enamel is not removed.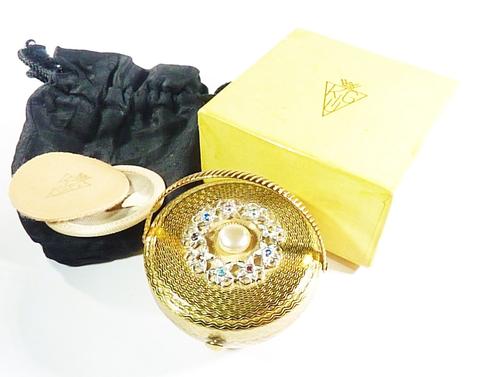 A vintage Kigu Basket 'Bouquet' powder compact in the original presentation box. This is a highly desirable basket shaped loose powder compact which was made in the 1950s. There are only two known years of availability 1956 and 1957. At that time this adorable little vanity retailed for 31/6. The 1957 Kigu price list describes this model as 'BOUQUET Compacts (63 Type) w/graceful handle Engine Turned pattern with Fashion Jewel Mount'.  As you can see the compact is set with a faux pearl surrounded by silver tone flowers. Each one of the silver flowers have a tiny faux gem in the middle. We are so happy to find this charming vanity in the original box, with the original drawstring pouch, puff and sifter. Even the box is in super condition. Such a gorgeous little basket compact with a movable handle. The compact is protected by the Kigu 'jeweller's gilt finish' which means it will not tarnish or need to be cleaned. All clasps and hinges work perfectly. The powder well is stamped 'BOUQUET' and also with the Kigu registered trademark.  Measures almost 2 1/4″ and weighs 57.9 grams.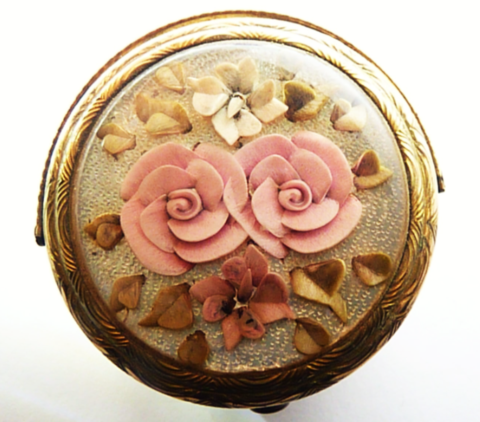 A delightful unused Perspex Kigu Lucite basket loose powder compact made in the 1950s.  This adorable functional little basket shaped compact mirror is in super condition. The lid contains a clear Lucite dome which protects pale pink reverse carved roses, cream and pink flowers and golden leaves form a gorgeous symmetrical composition all set atop tin foil.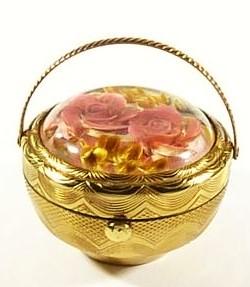 1950S KIGU BOUQUET NOVELTY FLOWER BASKET COMPACT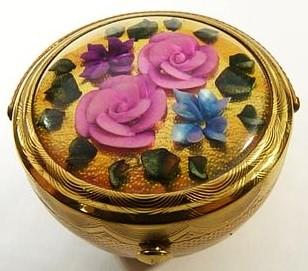 BOUQUET (63-TYPE) COMPACT FLORAL PERSPEX INSERT

In 1957 these Perspex / Lucite novelty powder compacts had a minimum retail price of 31/6.
Kigu Ltd. also manufactured loose powder compacts that looked like suitcases.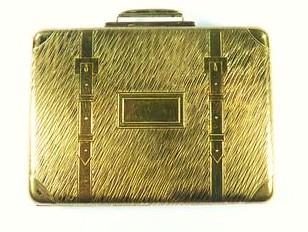 The makers named this compact '61-01 "Suitcase Series" E.T. (engine turned) Imitation Leather  Design (without labels) '. Part of the 'Attache Case 61 Series' of delightful novelty vanities, this was the version without labels of the capital cities. Available from 1956 the wholesale cost in this year was 13/- and the minimum retailer recommended price was 31/6. The compact has the most glorious deep golden patina throughout. The lid and base are engraved to look exactly like a leather suitcase. Even the handle is functional and serves as a catch.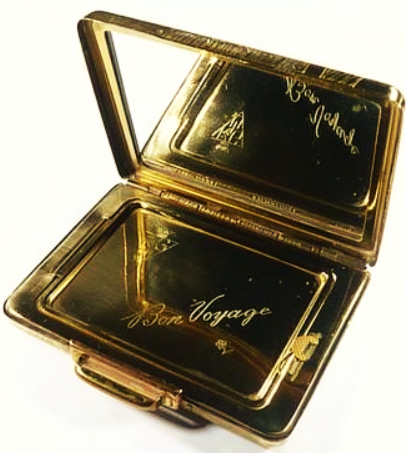 INTERIOR LID INSCRIBED BON VOYAGE
 Tilt the handle back slightly to access the interior case where you will see a framed mirror which gives a good and accurate reflection. The mirror bezel is engraved 'PATENTED MADE IN ENGLAND'. The inner lid is engraved with a pretty little flower and 'Bon Voyage' in elegant script. The Kigu triangular registered trademark clearly visible. The Kigu registered sliding catch holds the inner lid closed. The makers applied a layer of transparent enamel during the manufacturing process and so this item will retains it pleasing appearance and never need to be cleaned. Measures 8.5 cm x 6.8 cm. 
Kigu Ltd. had factories located at Waldo Road (Waldo Works), Trenmar Gardens and Harrow Road in London.
The Harrow Road site was recently purchased by property developers who have demolished the building to make way for luxury apartments.  
It is understandable that George Kiashek decided to leave Hungary in 1938 to settle in Great Britain. George decided to anglicise his name somewhat by dropping the c. 
During WWII the Kigu factory premises and the skilled workers who had not signed up as soldiers were engaged in the manufacture of munitions. Machines used to make lipstick cases were adapted to make bullet casings.  
After the war Kigu Ltd. and many other compact manufacturers faced shortages in raw materials, especially brass.  Aircraft alloy and Perspex (Lucite) were salvaged from fighter planes waiting to be scrapped and fashioned into powder compacts, accessories and costume jewellery.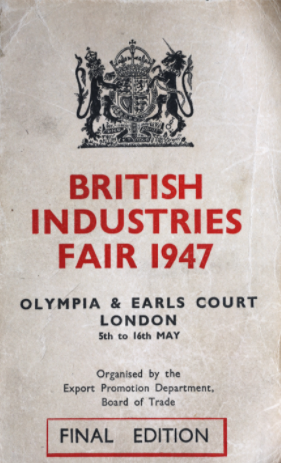 Kigu Ltd. exhibited at the British Industries Fair held at Olympia and Earls Court in May 1947.
This is the firm's listing in the programme:
 'Kigu Ltd. of Waldo Works, Waldo Road, London, NW10. Telephone: Ladbroke 1042. Cables: "Kigu, Harles, London"
1947 British Industries Fair Advert as Manufacturers of Metal Powder Compacts, Vanity cases, Flapjacks**, Cigarette Cases and Fancy Artificial Jewellery, Necklaces, Bracelets, Metal Fittings for Hair Slides. (Fancy Goods Section – Olympia, 1st Floor, Stand No. F.1849'
In 1947 Paul Kiashek joined his brother George. Paul's role was as a working director.
By the end of the 1940s Kigu Ltd. was back in full production of their own brand, as well as being engaged by Salo David Rand to create novelty powder compacts which would bear the Pygmalion brand name. The most well known of these are the basket and globe shaped compacts. 
The 'Globe' is included in a Pygmalion/Rand advertisement of February 1951, which was headlined 'Latest Pygmalion Creations'. Others in this series featured various patterns on their metal exteriors. An impressed map of the world makes this a sought-after vanity.
In 1949 Kigu Ltd. manufactured a small number of sterling silver globe loose powder compacts for S. D. Rand. The interior powder well was stamped ' "PYGMALION" No 1960 MADE IN ENGLAND PATENT PENDING.' You would think that the makers would lodge the patent application, especially when we  know that Kigu would later go on to manufacture globes and baskets for their brand. These globes and baskets were often exactly the same exterior dimensions. Some of the globes with the impressed map of the world on their outer cases were identical millimeter to millimeter to the Pygmalion brand. So who registered the patent was it Rand or Kigu Ltd?  Rand had many inventions  patented. Below is one of his many patent applications.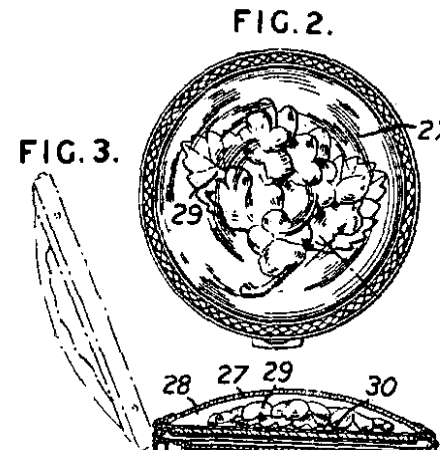 S. D. Rand's diagram showing a Perspex lid which is protecting a floral display.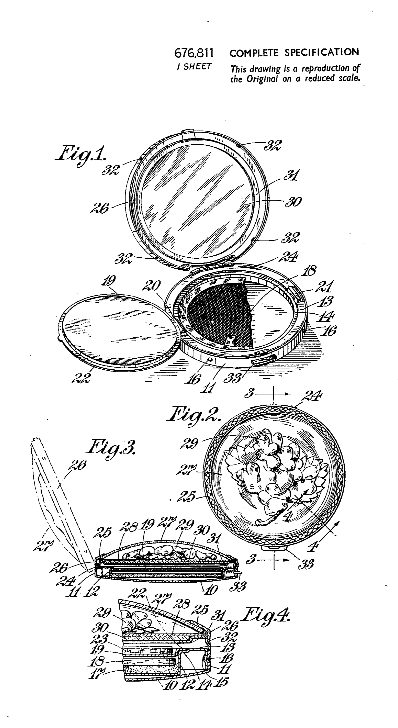 The patent application:
676,811. Powder compacts. RAND, S. D. Dec. 14,1950 [Jan. 13,1950], No. 949/50. Class 18 The lid of a powder compact comprises an upper transparent convex lamina 27 and a lower lamina 28 between which a decorative article, such as a sprig of artificial flowers 29 is mounted. A mirror 30 is fitted.
This is the same design of lid as the Kigu 'Bouquet' basket powder compact. The interior is slightly different as it also has an inner lid. Some of the Kigu globe compacts have inner lids and some do not. So we know that Rand patented the Perspex 'transparent convex lamina' which covers the artificial flowers. This patent does not show the base of the compact as it does not relate to the application.
George Kiashek lodged many patent applications in Great Britain and Germany. 
George was the inventor of the family. He  invented the very hygienic washable Kigu patented plastic sifter, show card stands and many other devices and improvements to powder compacts.  On 15 April 1958 he made a patent application to the Patent Office in London for the  'Improvements in decorative mounts'. This detailed improvements to the way initials are mounted into the lid of powder compacts.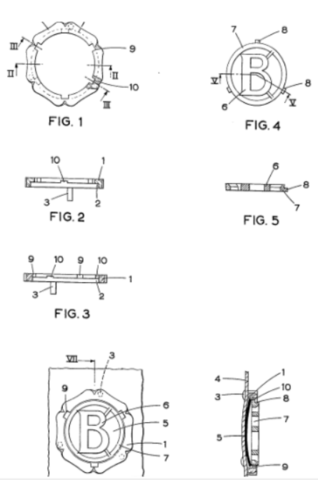 IMPROVEMENTS TO DECORATIVE MOUNTS 
Paul, Charles and George were a superb combination of dedication and creativity. George was known as a man who showed great ingenuity. Paul passed away in 1976 and he was followed by George in 1977. 
With George's unexpected passing, his son, David, became the fourth generation of the Kiashek family to have become involved with the production of vanities and fancy goods. David was in his twenties and he decided that he would complete his degree in Mechanical Engineering at Hatfield Polytechnic and then he joined the firm full time. 
Many of the workers had known David since he was a baby and they were only too willing to help him learn the ropes. David worked in every department and attended courses on production and business management. David's mother, Irene, also worked full time in the office at Kigu Ltd. after George's passing. When David was 24 years of age he became Managing Direct of Kigu Ltd. At this time the three factories were staffed by approximately 150 employees. In the early 1980s Kigu Ltd. was acquired by A. S. Brown the makers of the Mascot brand.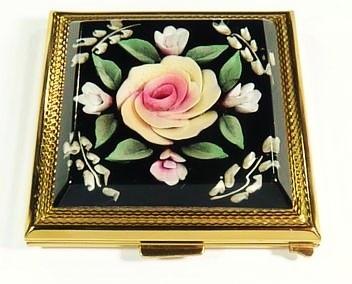 1960S KIGU KARETTE – NOTE LEVER ON RIGHT
 A splendid Lucite Kigu 'Karette' compact mirror. This rather gorgeous compact was made in the 1960s. The 'Karette' model is not at all common and to find one with a Lucite dome housing a wonderful reverse carved Lucite floral display is not something that often happens. Framed by an engine turned gilt border, the clear Lucite dome shields the most enchanting Lucite floral arrangement – a spray of bluebells at each corner and in the middle of this composition a pink rose and four tiny pink flowers each with mint green leaves! The exacting standards of Kigu Ltd. have ensured that this vanity is still as beautiful as it was in the 1960s. All the brass has the Kigu famed 'jeweller's gilt finish' – a coat of lacquer applied by the maker, which ensures that the brass will not tarnish or need to be cleaned.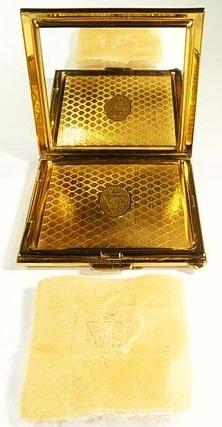 The 'Karette' was described by the makers as  – ' 2 1/2″ Square "Karette" compact with "remote control" inner lid opening. Gilt E.T. (engine turned) engraved design.' The all gilt interior features automatic opening lid. A push button which is the distinguishing feature of the 'Karette' opens the powder well lid. The lid has a honeycomb guilloche engraved design and an oval cartouche which bears the Kigu triangular registered trademark. The compact was originally made for loose face powder.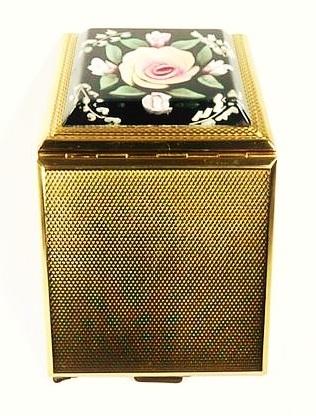 KIGU KARETTE
The base of the compact is decorated with an engine turned design of tiny diamond shapes. All surfaces of this expertly made vanity are rendered in such a way that they will never show fingerprints.  Measures 2 1/2″ x 2 1/2″ and weighs 81.7 grams.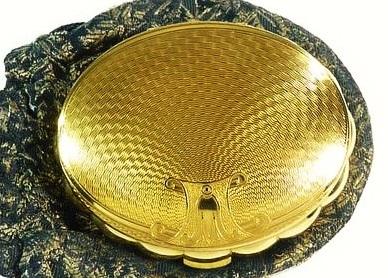 This enchanting 1950s Kigu 'Concerto' musical powder box is also considered to be a 'novelty' vanity. It has the most captivating guilloché engraved lid which changes appearance as it catches the light and the whole item gleams. This item is described as  'Kigu of London 73-274. Engine turned pattern in basket weave in jeweller's gilt' finish'. A scroll shaped cartouche just above the thumb catch contains a charming harebell. Lift the lid to see that the Kigu 'gilt jeweller's finish' was also applied to the interior case which is decorated with a finely engraved pattern and inscribed 'Concerto' in a cartouche. Turn the winding key clockwise to hear the delightful tune play.  The powder well lid is signed 'KIGU'. The original Dorothy bag (pouch), unused signed puff and sifter are in place. As the lacquer is in tact this item is as beautiful as it was over sixty years ago. Fitted with the finest Swiss musical movements these music boxes often still play well today.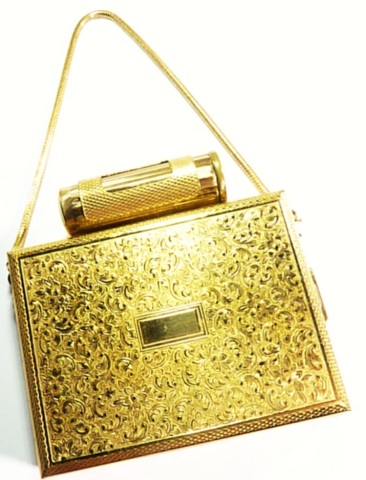 'Party Cases' are small, eye-catching vanity cases which are designed to carry everything a lady would need whilst out for the evening.
View Our Entire Collection Of Vintage Kigu Powder Compacts.
More reading:
https://thevintagecompactshop.com/blogs/antique-and-collectible-history
https://thevintagecompactshop.com/blogs/faq
You can find out more on the history behind their compact mirrors in our fact packs that come with every order.
Shop the collection –Kigu, Stratton, Mascot, Melissa vintage compacts click here.