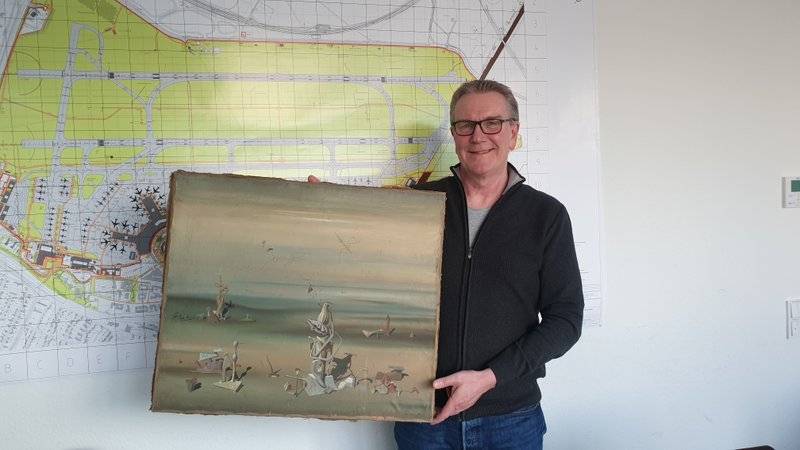 A typical recycling bin may contain mixed papers, cans, and plastic containers. Yet, German authorities recently found a treasure hidden in a recycling bin at Düsseldorf Airport: an untitled and undated painting from French surrealist artist Yves Tanguy.
The painting, worth approximately 280,000 Euro ($340,000), was inadvertently left at a Düsseldorf Airport check-in counter by a traveler headed to Israel last month. After the traveler's flight, he reported the missing painting to German authorities. But, despite their best efforts, authorities were unable to locate the missing painting.
German authorities were able to trace the missing painting to a recycling bin used by Düsseldorf Airport's cleaning company. Last week, they found the missing painting (which was wrapped in cardboard) in a recycling bin near the airport.
The missing painting was one of many produced by Tanguy in the mid-20th century. Tanguy's paintings often feature abstract landscapes and flashes of contrasting color accents, and they highlight nonrepresentational surrealism.
Surrealism is a 20th-century art and literary movement that resulted in works showcasing the creative potential of the unconscious mind. One of the key tenets of surrealism: transforming everyday objects into masterpieces that captivate and inspire audiences.
If you appreciate the beauty of surreal masterpieces or want to learn more about surrealism, we encourage you to check out the wide range of surreal artwork recently sold at online auctions. A quick search of "surreal art" on Worthopedia reveals more than 31,000 results, and these results can give you a good idea about the vast array of surreal artwork produced. If you find surreal artwork you like, you can search for comparable works. And over time, you can build a surreal art collection.
---
Dan Kobialka is a self-employed content writer and editor with about a decade of experience. He produces content across a wide range of industries, including antiques, insurance, and real estate. To learn more about Dan, please visit his website: www.dankobialka.com.
WorthPoint—Discover Your Hidden Wealth®
(Visited 316 times, 26 visits today)