#Glassybaby #Flip #Skip #WorthPoint
PODCAST:
Episode Summary:
Welcome to Flip It or Skip It Episode 76 with our hosts, Danna Crawford and Wayne Jordan. In today's episode, the duo discusses Glassybaby candleholders and their own ignorance.
What Will Be Learned:
What is a Glassybaby, and is it okay that you've never heard of them?
What is the resale value of Glassybaby products?
Why have Glassybaby products risen in popularity and value recently?
How can a Glassybaby product be identified, and what do you look for?
Episode Review:
00:28 – Introducing today's topic: Glassybaby
01:12 – What Danna learned from a WorthPoint workshop
02:48 – Wayne makes an admission regarding Glassybaby products
04:31 – Bezos babies pique Wayne's interest
07:17 – Methods for identifying Glassybaby products
10:17 – Message from our sponsor
11:19 – Effects of Bezos's investment in Glassybaby
13:26 – Danna's take on Glassybaby reselling and when's the best time to buy
15:30 – The importance of keeping an eye out when perusing a store
16:01 – Wayne doesn't tend to break glasses
TUNE IN: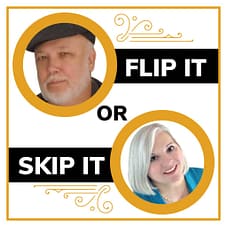 Key Takeaways:
Starting off, Wayne and Danna discuss a product they've never heard of before. Given their encyclopedic knowledge of collectibles, this is a rare instance of them finding something entirely new.
The duo then moves on to discuss the recent business decisions affecting Glassybaby. Wayne uses this as a jumping-off point to discuss Glassybaby marks and identification procedures.
Danna makes a valid argument for when to resell items. She explains that while Glassybaby products differ, they still fall under the same rules.
Links:
SOCIALIZE WITH FLIP IT OR SKIP IT ONLINE:
SUBSCRIBE TO THE NEWSLETTER:
QUESTIONS:
Learn more about podcast sponsor WorthPoint, the world's largest antiques and collectibles pricing and research database, and receive a free 7-day/7-lookup trial. With WorthPoint and its free app for Apple or Android, you can buy right, sell right, and profit more.
WorthPoint—Discover Your Hidden Wealth®