Podcast:
Episode Summary:
Welcome to Flip It or Skip It Episode 65 with our hosts, Danna Crawford and Wayne Jordan.
In today's episode, the duo discusses cuckoo clocks, the funniest (and loudest) piece of clockwork.
What Will Be Learned:
What defines a cuckoo clock?
How to tell a mass-produced knock-off from a hand-carved original
What are the major types of cuckoo clocks, and how are they each valued?
Where can cuckoo clocks be found, and why are some places better than others?
How viable is it to sell just cuckoo parts rather than the whole clock?
Episode Review:
00:27 – Introducing today's topic: cuckoo clocks
01:24 – eBay results for cuckoo clocks and where to find these clocks
02:39 – The demand for cuckoo parts and Wayne's approach to anything "old and mechanical"
04:28 – The variety of cuckoo clocks
07:13 – Wayne's need-to-knows about cuckoo clocks and the variables that dictate their value
10:56 – Message from our sponsor
11:57 – Teenage Mutant Muenster cuckoos
13:51 – How to use eBay with the intent of reselling cuckoo clocks
16:30 – The principles of cuckoo clock mechanics and the difference between one-day and eight-day clocks
20:04 – Why estate sales are generally the best place to buy cuckoo clocks
22:15 – How to use your title to maximize selling opportunities
Tune In: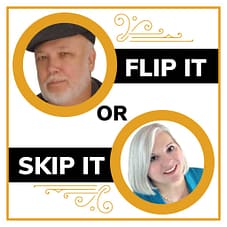 Key Takeaways:
The episode starts with a brief overview of searching for cuckoo clocks on eBay. However, this is preempted by some harsh words from Wayne regarding the talkative nature of these clocks.
The duo moves on to discuss the demand for cuckoo clocks. Wayne gives a few notes about selling old mechanical pieces before Danna recounts an encounter with a Muenster clock.
Danna discusses the benefits of using eBay to search for clocks and parts. She then suggests bradforexchange.com as a way to continue the hunt for clocks.
Wayne lauds estate sales as a fantastic place to find cuckoo clocks. After going into detail on why estate sales are so great, Danna finishes the episode by discussing the finer points of spelling.
Links:
SOCIALIZE WITH FLIP IT OR SKIP IT ONLINE:
Subscribe To The Newsletter:
Questions:
Learn more about podcast sponsor WorthPoint, the world's largest antiques, and collectibles pricing and research database, and receive a free 7-day/7-lookup trial. With WorthPoint and its free app for Apple or Android, you can buy right, sell right, and profit more.
WorthPoint—Discover Your Hidden Wealth®