I will do my best to publish every Monday.
---
Cottone Auctions, Geneseo, NY, held an Art & Antiques sale November 13-14, 2020. Included in the Saturday portion of the sale was a nice selection of Tiffany Studios and other lamps. Personally I didn't participate because I spent a lot of time participating in their previous sale and bought nothing. I assumed they would get good results and I would waste my time again. But this time their results were softer and I might have been able to buy something. Oh well. It's water under the bridge now.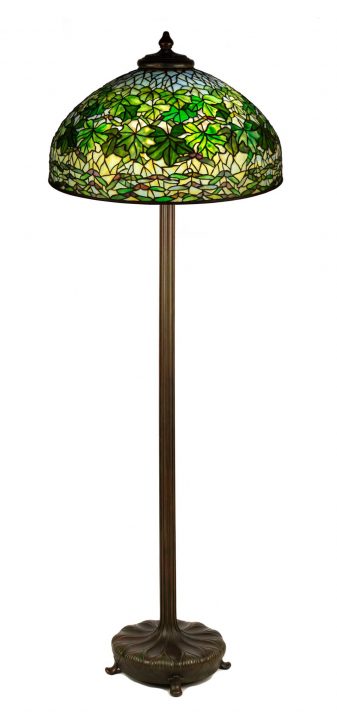 The top lot of the Tiffany lamps was #348, a beautiful 22″ diameter Maple Leaf floor lamp. This is a model that I've always loved. Estimated to sell for $50,000 – $80,000, it realized $63,000, or $75,600 including the buyer's premium. In my opinion, this was a fair price on which a dealer could make a profit.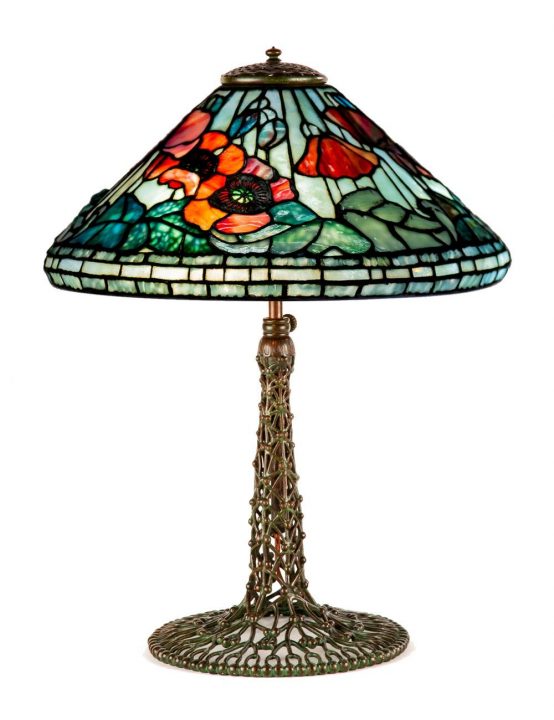 Lot #349 was another beauty — a Tiffany Studios 17″ tuck under Poppy with red flowers and a pale blue background, on a very rare reticulated base. It sold for its low estimate of $40,000, or $48,000 with the buyer's premium. I could easily have made money on this exceptional lamp.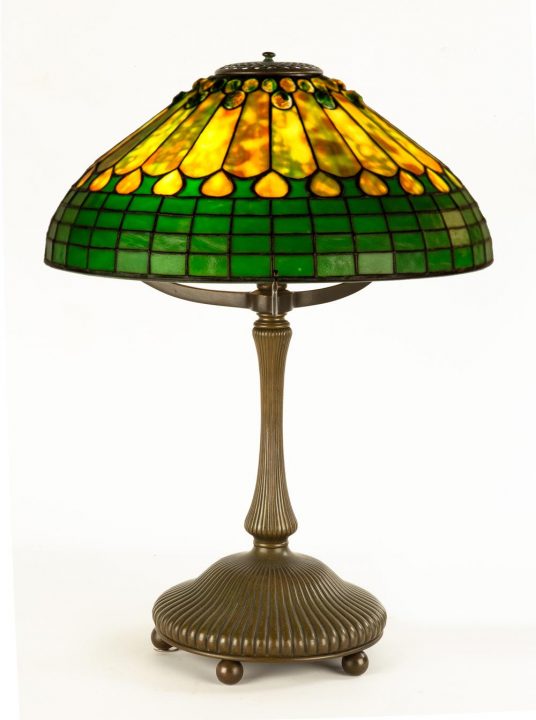 A rare two-tone example of the Jewel Feather model, lot #351, sold weakly, in my opinion. It brought $9,250, or $11,100 including the buyer's premium. That was about half of what Cottone sold a similar example for in their previous sale. Again, I could have easily sold it for a profit.
Cottone also sold several Handel lamps at depressed prices, including a beautiful Jungle Bird boudoir lamp, lot #343, for $2,280, including buyer's premium. That's less than half of its value at the peak of the market a decade or more ago.
For the complete results of the sale click here. You will have to sign in (free) for the prices.
---
Let me know what interests you, even if you don't see it on my website. I've got lots of items that I haven't listed yet and I know how to locate what you desire.
I listed some of the new items on my website and will list more every week. Click Philip Chasen Antiques to take a look. I will make every effort to actively list new items as often as time permits. I always strive to offer the finest objects for sale on my website and at every show. There are many items for sale, sold items with prices and free lessons about glass and lamps. And remember to keep reading my blog.