#COPPER #COOKWARE #FLIP #SKIP #WorthPoint
PODCAST:
Episode Summary:
Welcome to Flip It or Skip It Episode 83 with our hosts, Danna Crawford and Wayne Jordan. In today's episode, the duo discusses finding, evaluating, and flipping copper cookware.
What Will Be Learned:
How to evaluate copper cookware
Listing and selling cookware on eBay
What to do with damaged cookware
Tips for listing restaurant menus on eBay
Why copper cookware is preferred by French chefs
Episode Review:
00:24 – Introducing today's topic: copper cookware
01:37 – Copper cookware is popular with French chefs
02:58 – Danna's experience listing and selling copper cookware
06:55 – Copper cookware isn't all copper
08:37 – Revere ware and copper-clad cookware
09:45 – Types of lining on pots & pans
10:10 – How wear affects usability
11:13 – Word from our sponsor
12:18 – Hammered copper
12:38 – How to evaluate copper cookware
16:28 – Types of handles on copperware
17:34 – Ill-fitting and missing lids
18:20 – Copper cookware as a family heirloom
22:03 – Episode close
TUNE IN: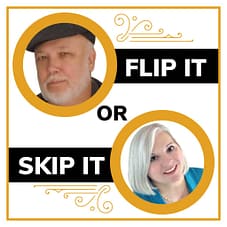 Key Takeaways:
Why copper cookware is preferred by French chefs
Tips on listing copper cookware on eBay
How damaged copper cookware can affect its usability
How to clean and care for copper cookware
Copper-clad vs. copper
Why are pans lined
What to do with scratched and damaged cookware
How to evaluate copper cookware
How to sell items with missing lids
Heirloom value of copper cookware
Links:
SOCIALIZE WITH FLIP IT OR SKIP IT ONLINE:
SUBSCRIBE TO THE NEWSLETTER:
QUESTIONS:
Learn more about podcast sponsor WorthPoint, the world's largest antiques and collectibles pricing and research database, and receive a free 7-day/7-lookup trial. With WorthPoint and its free app for Apple or Android, you can buy right, sell right, and profit more.
WorthPoint—Discover Your Hidden Wealth®