I will do my best to publish every Monday.
---
I recently wrote a blog about the hot Tiffany lamp market. I wouldn't say they're selling like hot cakes, but close to it. Following are a few of my recent sales.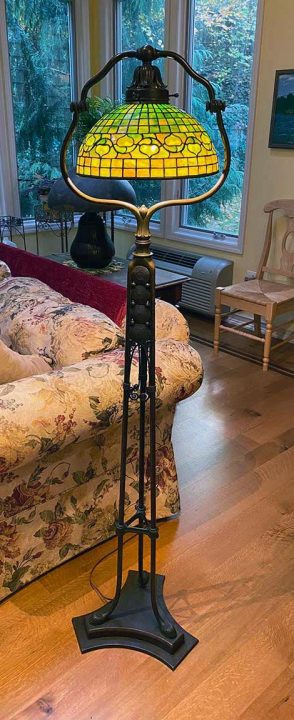 The wonderful Tiffany Studios 12″ diameter Acorn floor lamp pictured above didn't last long. It had great dichroic glass with mixed green and orange colors. What made it extra special was the amazing floor base with coiled spirals. The rare base was solid bronze and very heavy. The double-knuckle configuration of the harp allowed the shade to tilt. It looked beautiful in my home while it lasted.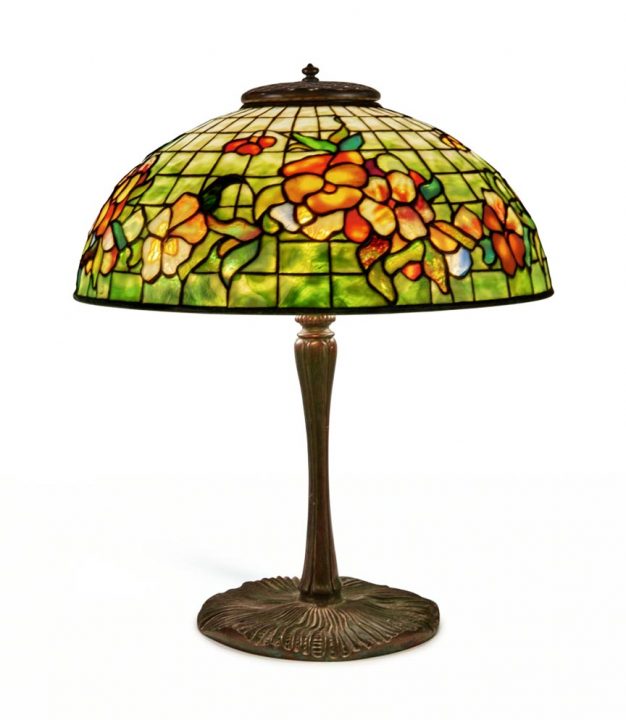 The Tiffany Studios 16″ Pansy above didn't last long either. It was dash-numbered 25, which indicated that it was #25 of a special production run of 25 lamps. Most dash-numbered Tiffany lamps are special and collectors pay extra attention to them. This example had an amazing assortment of mottled, rippled, and textured flowers. It also had a rare Inverted Mushroom base to add to its appeal.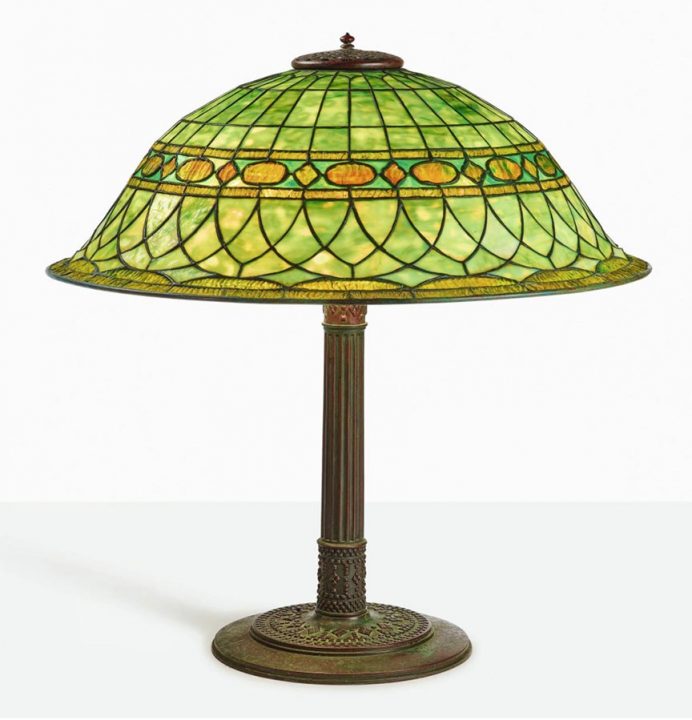 Roman table lamps are some of the largest of the geometric table lamps that Tiffany Studios produced. This 25″ diameter lamp was the first lamp to sell of the recent group I bought. The belt and border all had beautiful yellow and orange ripple glass elements. The six-socket Roman base was impressive, especially with a gorgeous patina.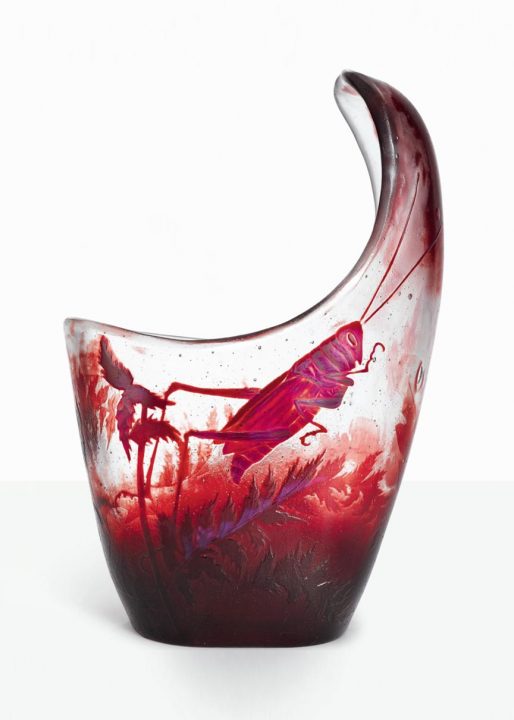 French glass has also been selling well, including the extraordinary Gallé Grasshopper vase pictured above. It was marked Cristallerie underneath, indicating it was early production from the 1890s. I could have sold it three times and probably upset a couple of good clients in the process. I apologize to them.
---
Let me know what interests you, even if you don't see it on my website. I've got lots of items that I haven't listed yet and I know how to locate what you desire.
I listed some of the new items on my website and will list more every week. Click Philip Chasen Antiques to take a look. I will make every effort to actively list new items as often as time permits. I always strive to offer the finest objects for sale on my website and at every show. There are many items for sale, sold items with prices and free lessons about glass and lamps. And remember to keep reading my blog.