#Antique #Bamboo #FlyFishing #Rods #Flip #Skip #WorthPoint
PODCAST:
Episode Summary:
Welcome to Flip It or Skip It Episode 77 with our hosts, Danna Crawford and Wayne Jordan. In today's episode, the duo discusses fly-fishing rods in all their wonderful variations.
What Will Be Learned:
Good places to find fly-fishing rods
Which are more valuable, standard or custom rods?
What do I need to know to find, purchase, and flip a fly-fishing rod?
How to evaluate a fly-fishing rod for repairs, the total number of parts, and whether it needs refinishing
Episode Review:
00:26 – Introducing today's topic: bamboo fly-fishing rods
00:35 – Size of the fly-fishing industry and the implications on the collector's market
02:29 – Danna gets on the wall of fame
05:04 – Wayne dreams of fishing
08:00 – What you need to know to buy an antique fly-fishing rod
10:00 – Word from our sponsor
11:43 – Pay attention to the finish of a fly-fishing rod
14:06 – Noticing repair work on a rod and how this affects resale
15:14 – Ultra-light fly-fishing kits
16:37 – Google searches vs. database searches: which one works for which rods?
Tune In: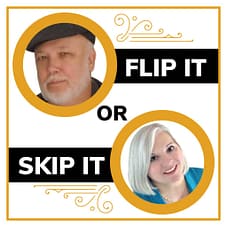 Key Takeaways:
Starting, Danna and Wayne each recount their childhood experiences with fishing.
Wayne starts the discussion on fly-fishing collectibles by outlining what any novice needs to know to evaluate, buy, and flip a fly-fishing rod properly.
After the break, Danna and Wayne discuss how a rod's state of repair impacts its ability to be sold. Danna explains how to find quick patches on rods that will negatively impact their final price tag.
To end the episode, Wayne talks about search engines and how to learn more about your rod. Wayne reminds listeners that custom rods won't appear in databases but are often worth substantially more.
Links:
SOCIALIZE WITH FLIP IT OR SKIP IT ONLINE:
SUBSCRIBE TO THE NEWSLETTER:
QUESTIONS:
Learn more about podcast sponsor WorthPoint, the world's largest antiques, and collectibles pricing and research database, and receive a free 7-day/7-lookup trial. With WorthPoint and its free app for Apple or Android, you can buy right, sell right, and profit more.
WorthPoint—Discover Your Hidden Wealth®