I will do my best to publish every Monday.
---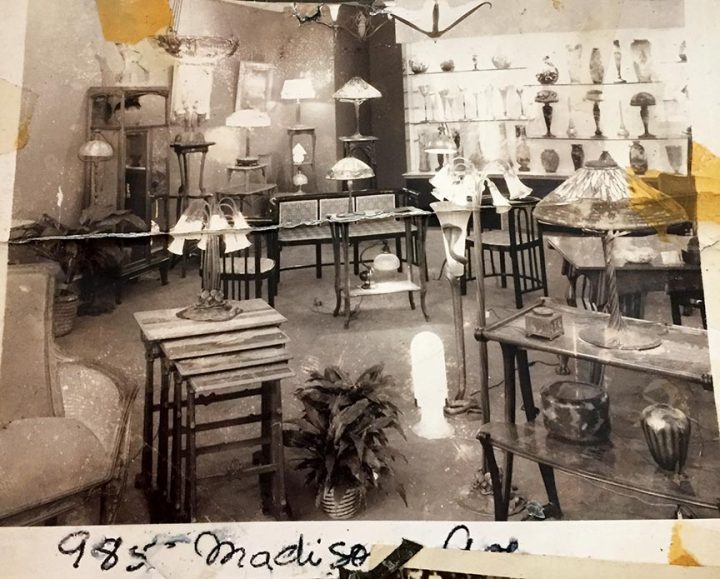 My wife was looking through some old photos and came across one my mother-in-law had taken of Chasen-Stamati Gallery, my gallery in New York City with partner Paul Stamati. It dates to 1989 and brings back bittersweet memories.
The late 1980s were boom times in the antiques world. The Japanese were buying like crazy, borrowing from banks against the value of their real estate in Tokyo, which was astonishing. Three-quarters of our sales went to Japanese buyers, directly or indirectly. Business was so good that I formed a partnership with Paul. We opened a very fancy gallery in the Carlysle Hotel on Madison Ave. in New York City. Yes, the Carlyle where President Kennedy stayed when in NYC.
We had an unbelievable inventory of lamps, glass, and furniture — everything from Tiffany to Handel to Pairpoint to Icart to Majorelle to Daum and Gallé. Everything was selling well, especially French glass and Louis Icart etchings and oil paintings. We would show our inventory of Icart etchings numerous times per week to Japanese clients, who would buy several at a time. Prices were going through the roof, locking out many American clients who couldn't keep up.
Those were the sweet times until the beginning of 1990, when the sky came falling down. The Japanese buyers all stopped buying at the same time. The abrupt halt in business was breathtaking in its suddenness. We couldn't pay our rent, so we were forced to suddenly close and take a big loss. I was forced to sell my home at a loss, which we had just bought. The early 1990s were the bitter times. Amazing that I survived them. Big sigh!
Fast forward, I'm doing fine and have been for some time. Thank you for asking. And a big thanks to all my loyal clients who helped me keep my head above water during the tough times.
---
Let me know what interests you, even if you don't see it on my website. I've got lots of items that I haven't listed yet and I know how to locate what you desire.
I listed some of the new items on my website and will list more every week. Click Philip Chasen Antiques to take a look. I will make every effort to actively list new items as often as time permits. I always strive to offer the finest objects for sale on my website and at every show. There are many items for sale, sold items with prices and free lessons about glass and lamps. And remember to keep reading my blog.