I will do my best to publish every Monday.
---
Rago Arts and Auction, Lambertville, NJ, held an Early 20th Century Design sale on January 21, 2021, including art pottery, furniture, lamps, glass and ceramics. Following are a few of the results.
George Ohr was well represented in the sale with 38 lots. The top lot of these vases was #105, a beautiful, blue, highly ruffled, 6½" tall example. It approximately doubled its high estimate of $35,000, realizing $81,250, including buyer's premium. 19 of the 38 lots sold for $10,000 or more.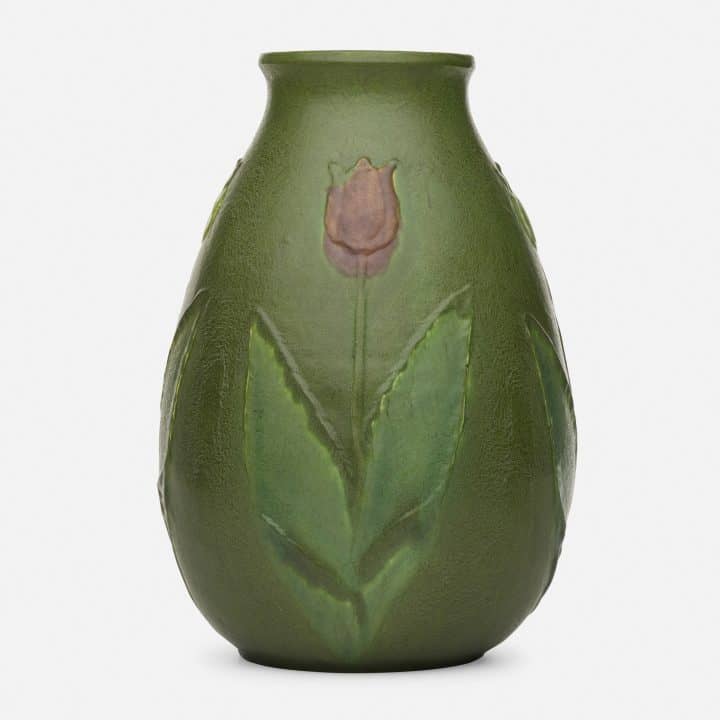 I really liked lot #204, a floral decorated Grueby vase. Unfortunately, it had been overfired at the factory, causing the glaze to slip down about 1/2″. What a shame. I would have bid strongly for this vase if it hadn't had problems. Regardless, it sold for $11,875, including buyer's premium, against a $6,000 – $9,000 estimate.
Lot #243, a 17″ Dragonfly on a rare Favrile glass base, sold best among the dozen or so Tiffany lamps in the sale. It realized $96,000, including buyer's premium — near its high estimate of $80,000.
For the complete results of the sale click here.
---
Let me know what interests you, even if you don't see it on my website. I've got lots of items that I haven't listed yet and I know how to locate what you desire.
I listed some of the new items on my website and will list more every week. Click Philip Chasen Antiques to take a look. I will make every effort to actively list new items as often as time permits. I always strive to offer the finest objects for sale on my website and at every show. There are many items for sale, sold items with prices and free lessons about glass and lamps. And remember to keep reading my blog.